Sabrosura

1/2 On the few extended English vacations I've taken to visit my sister, I've become convinced that my legs were morphing into two stubby chip appendages. It starts with tuber thighs and next thing you know, you're a human chip butty. Lately, a new starchy vegetable has started taking root on my limbs. I can probably count on one hand the number of times I've eaten yuca. And yet after eating at Sabrosura, I'd gotten my third stomach full in four days. I never knew the true meaning of sticks to your ribs until I met this Caribbean staple. I see how it does its job as cheap filling foodstuff but I think it's wise that I start laying off the yucca fries.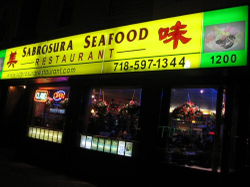 Other than a soft pretzel at the zoo, I've never eaten a bite in the Bronx. It's a whole new frontier begging to be explored (even the Times headed up this week). I wasn't sure what to expect from Castle Hill but the first thing I laid eyes on after stepping out of the car was a toddler on a leash. Awesome! Just when I'd had it with all the foul Park Slope mom mayhem. No precocious roaming free, self-expression in the Bronx. They probably spank there too. At least I wouldn't have to worry about loose un-paddled children ruining my Domincan-Chinese meal.
The menu is voluminous (I suggest looking at it online). I didn't even know where to begin. Take out classics like beef with broccoli? Local stuff like grilled meat with yellow rice and plantains? They call themselves a seafood restaurant, which is supplemented by plastic fish on the wall, netting above a front area that looks like it should be a bar but isn't. But beyond fried shrimp I'm not sure that seafood is the standard order.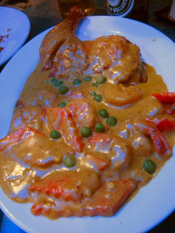 The guys who seem more in charge are Chinese, the busboys looked Mexican, the clientele was mixed with white couples, Spanish families (I'm using that in the NYC sense, just for fun…when in Rome, though I'm not ever going to say Ore-uh-gone for Oregon) and no Asians. I always wonder how many Chinese actually eat corner "Chinese" food in the city. There's got to be Mexicans who love Taco Bell.
While nibbling complimentary garlic bread, we decided on chicken curry, chofan and yuca mofongo. Curry is odd because there's nothing particularly Chinese about it. It ended up being soupy yellow curry in the sense that it's seasoned with curry powder, closer to Japanese curry than anything, kind of sweet and dotted with peas and carrots. It wasn't like we were expecting Thai or Malaysian food so this wasn't shocking. Choice for sides inlcuded maduros, tostones, yucca or rice. We got tostones.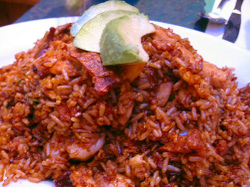 Chofan is their Nuevo Latino fried rice (there are other versions in the Chinese section). I'd just seen Chaufa, a similar dish, on a Peruvian menu. Everyone loves fried rice. This version had the extra additon of chicharrone. We paid the extra $2 for shrimp too. I take excess seriously.
The mofongo is where it got weird. I wanted the version with a side of fried pork chunks that I saw in a laminated flip menu on a little plastic stand. What I ended up with was an unadorned softball of yuca (you're offered this starch or more typical plantain) in a bowl of gravy. Mofongo will put you into a coma. I'd never even heard of the dish until a few years ago. It's not like I grew up with any Puerto Ricans, and I wonder if this is something a contemporary Boricua even orders. You don't see blogs dedicated to mofongo worship (then again, you don't see many Latin American food blogs period. Asian females seem to have the corner on the I eat and write about it market. I don't want to generalize so I'll have to look into this further before coming to conclusions. I think a big part of it is that Latin American blogs don't tend to be in English, duh. Cooking Diva, a Panamanian blog is one of the few I can think of off the top of my head). Maybe it's like tuna casserole, an old standard that some people in parts of the country might still eat. Or maybe it's d.i.y. hip—I found a vegetarian, nay vegan recipe in ReadyMade.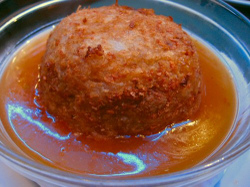 We picked at maybe 1/3 of the mash-blob and had to pack it in. But the leftovers fortified me the next day during a 12-hour work shift where there was no time to take a break. No, I don't perform manual labor so it's doubtful I burned off all the carbs but it definitely kept hunger at bay. I recently was given a subscription to a British food magazine and they're all obsessed with the GI diet over there. I don't even want to think about where yuca falls on the glycemic index.
Sabrosura * 1200 Castle Hill Ave., Bronx, NY