Pardo's

1/2 *I didn't realize that chains could just go changing their raison d'etre willy-nilly but it appears that Pardo's has switched from pollo a la brasa to ceviche and changed its name to Panca. (6/08)
I'm crazy for foreign chains but Pardo's didn't arrive with the fanfare of Beard Papa, Uniqlo or even Kyotofu. Perhaps the Japanese are just masters of drumming up enthusiasm (though I'm not sure that Gyu-Kaku has been a sweeping success). It's a likable enough place so I'm hoping it doesn't go the way of Brooklyn's Pollo Campero.
Pardo's is a Peruvian chain specializing in rotisserie-grilled chicken. This is their first U.S. location and I'd be curious how closely the two menus resemble each other. They didn't eliminate the anticuchos, beef heart skewers, which I imagine skeeve out more than few West Villagers. I don't imagine there's a Piscopolitan cocktail on the Lima menu, though. It's pretty safe to guess that more than half of the clientele on a very busy Friday night were South American.
The small, brightly lit room can barely contain the amount of diners and potential diners. I couldn't relax the entire meal, even after a well-made pisco sour (that's a pisco libre to the left of the martini glass). The tables are so tight and precariously placed that I was constantly waiting for someone to knock something over on me. I will say that the waitresses (they're all young females) are some of the most friendly, upbeat service workers I've encountered in a restaurant that's one step up from fast food. Maybe they imported them because the leisurely pace that tables got turned over and bills were brought out was very un-NYC in lack of urgency.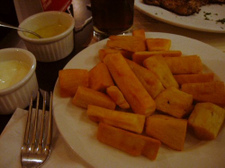 We tried half a chicken brasa and half parrillero, the brasa being rotisserie style and parrillero a grilled boneless fillet. Who knows what the advertised 14 secret ingredients were, but salt is definitely one of them (to be fair, I'm a notorious under-salter. I have to consciously add what seems like extra when cooking for others. It's strange that I have high blood pressure since I'm practically on an unintentional low-sodium diet). I preferred the classic spit-roasted version, both styles were juicy throughout, no cottony white meat.
There are quite a few sides to choose from, we got yuquitas, commonly called yucca fries, which are rapidly becoming one of my favorite fried starches, and tacu tacu, which are croquettes of beans and rice mashed together into fat little logs. Mayonnaise and a creamy aji sauce using yellow South American chiles come on the side. Despite the cute name, tacu tacu was kind of dull, I would've expected more pizzazz from a fritter. I might try canario beans instead if I went again.
Even though our spot was being eyed by anxious couples, we decided to have a slice of tres leches cake anyway. We couldn't disappoint our waitress who highly recommended it and checked back to make sure we were enjoying it. Only a monster would hate tres leches cake.
Pardo's * 92 Seventh Ave. S., New York, NY