Salud! Restaurant & Bar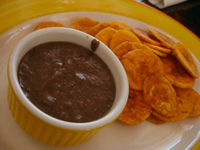 I never intended to eat plantains for three courses at lunch. The plantain chips and bean dip was a freebie. You can partake or not but I've never been one to ignore a bread basket or facsimile. That was my first mistake.
It made sense to do the three-course $20 prix fixe since my original plan to order two tapas/appetizers would've cost even more. I don't normally delve into the double digits for a weekday lunch, though I'm unusually frugal by even cheapskate standards. Trying to keep my daily total under $4 usually translates into a tiny midtown soup or bagel. But Salud is at the Seaport, which is an extension of the Financial District. James, who works nearby, didn't think the prices were out of line.
I shouldn't gone with my initial instinct and started with ceviche but instead I was swayed by sweet plantains stuffed with spicy beef and monterey jack. It sounded gooey and decadent, but in reality it was starch with barely perceptible dashes of ground meat and cheese. The maduros completely overwhelmed the other flavors.
Garlic shrimp seemed safe, but they didn't come solo. Oh no, the little crustaceans aligned next to a tidy row of tostones. It's a good thing I'm not low-carbing it. However, I am trying to eat less and shun sugar, but dessert was part of the meal so I was semi-forced to eat a perfectly acceptable flan (which apparently I enjoyed enough to eat before remembering to take a photo).
There appears to be a Cuban theme in music and style, but the menu is more of a Caribbean mish mash. I can see Salud being good for happy hour drinks if you worked nearby but it's not distinctive enough to attract diners from beyond the neighborhood. Now that I think about it, it's the kind of place that would pop up in my neighborhood (Carroll Gardens) and fail to excite me. Un-hideous but far from amazing.
Salud! Restaurant & Bar * 142 Beekman St., New York, NY