Palo Santo

1/2 No matter what, I can never remember the name of this restaurant. I know it's on Union Street, that the chef used to cook at Williamsburg's La Brunette (a restaurant I always meant to try but never got around to before it closed) and that it consists of two Spanish words. And then I'm stuck so I have to sort through all Latin American listings in Park slope on Citisearch or New York (ok, not the latter—I just tested it and it's nowhere to be found) to find it. Palo Santo, okay, I'm forcing it into my memory.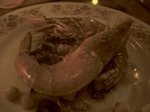 It's a curious place, stuck in the middle of a brownstone row and decorated in a woody willy-nilly fashion. There's a warm, crafty vibe, enhanced by the front room's fireplace. Reggae was the music of choice on my visit. I never went though a Bob Marley phase, but at least it's slightly more tolerable than Andean pan pipes or Gypsy Kings. Some commenter somewhere I can't recall described the interior as looking like a '70s health food eatery and that's not completely false, though I suspect they're trying for more sophistication than that. Thankfully, sprouts are nowhere to be seen.
The menu changes daily and I forgot to take note of the chickpea strewn slaw that our shrimp a la plancha were served on. I'm not sure if it was the citrus used or an exotic herb that snuck in (the chef makes use of many esoteric items) but there was an overall bitter, acidic flavor that didn't agree with me. That was the only miss, though. I forgot to change the setting on my camera after taking photos off the TV so everything ended up a dark, dull faux sepia toned mess.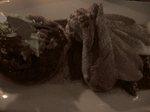 My duck mole was flavorful without being overwhelmingly rich as a fatty bird and dark sauce potentially could be. It came with a little corn cake topped with black beans that contained something crunchy. I want to say it was a fried skin of some sort but I don't recall that being part of the description. I did ask about the two foreign-to-me herbs that enhanced the beans. They were Mexican papalo and pepicha, and no, I can't quite describe them beyond dubbing them forceful and distinct. You wouldn't want a mouthful.
James had seafood asapado, a soupy rice, which was kind of like a cross between risotto and bouillabaisse. We shared a hot from the oven banana chocolate dessert that was topped with melting cream. It beat another tired molten cake, that's for sure. I refuse to eat those piping hot soft-centered sweets out of principle. I feel the same way about the oozing pucks as I do about rampant bad '80s music. There's just no excuse in 2007.
I've heard that if you sit at the bar you can order a $45 tasting menu that isn't set in stone. I guess that's an omakase. That doesn't sound unreasonable, yet I would've preferred that the dishes cost a few dollars less apiece. The prices were slightly high (entrees $20+) for a casual weeknight dinner (though it looks like they have a more moderately priced menu during the day), and when you could easily spend $100 for two (which I didn't) cash only seems silly.
Palo Santo * 652 Union St., Brooklyn, NY