Rosemary's Restaurant

I never went to Las Vegas with the intention of dining exclusively on the strip. That's why I rented a car. What I hadn't considered was how non-strip still translates to strip mall.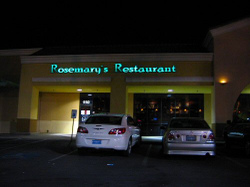 You can barely read a food blog mentioning Vegas without a Lotus of Siam or Rosemary's rave. Must-eats, to put it mildly. Many make a point of noting that Lotus of Siam is in a strip mall, yet no one says the same of Rosemary's, a serious restaurant with prices to match. I was initially scared of fine dining in a complex that's also home to a Dollar Tree, and I got more nervous when a truck limo pulled up out front. Maybe I've been in NYC too long, but who seriously rents out vehicles like that? At least it wasn't a stretch Hummer, I suppose.
I guess this is standard building practice with new-cities. I mean, where else would you put a business? You're practically starting from scratch. But even in Portland, which never struck me as old or traditional, restaurants are generally embedded in storefronts or are free standing. You don't get the mall aesthetic until you reach the outskirts and head into the Beavertons and Greshams of the world. I had no understanding of Las Vegas, it's really a suburb of a city. And once I got that, I was cool with the lack of gravitas.
I intentionally booked on Sunday, half-price wine night (also a very un-NYC move. Coupons, promotions, gimmicks, whatever you call them, just don't exist. I thought these Diner's Deck cards seemed like a fun gift but I'd be too embarrassed to use them) because I usually splurge on food yet skimp on wine. An $88 bottle of Domaine Drouhin Pinot Noir becomes much more attractive when it's price-chopped. This would be a great way to try wines I might normally shy away from.
While skimming the menu, James and I were trying to estimate what portions would be like. After Joel Robuchon's precious tastes the night before, we were kind of warped. Would the three-course prix fixe leave us starving or stuffed? I was guessing Rosemary's would be on the small side of medium but their servings turned out to be surprisingly hearty. I actually left food on my plate and that 's a rare occurrence.
Not hearty enough for all, apparently. The two very large gambling type gentleman, one flat-topped forty-something in a Hawaiian shirt, the other closer to seventy and wearing suspenders, were complaining to each other about the size of their food. They also seemed a little irritated when told about the half-price wine promotion and insisted they only wanted beer and cocktails. I was trying to eavesdrop while the waitresses sweet talked and tried to smooth over any potential problems, and could only hear that their usual favorite restaurant was a casino steak house (I couldn't catch the name) so it really just wasn't their scene. I'm curious how they ended up there in the first place because it takes effort. I can see that if you're accustomed to either all-you-can-eat or steakhouse fare, the price point and portion size might give you pause. But this wasn't even close to foofy food.
The $49 prix fixe includes three courses of your choosing from appetizer, salad/soup, entrée and dessert. We went all savory decided to try In-N-Out shakes on the way back to our hotel. An appetizer and entrée would've been sufficient. I ordered with my gut, whatever sounded good on impulse, no planning. I ended up with andouille and blue cheese in two dishes. No complaints, but I ordered a very decadent trio.
You could call the style new or creative American with Southern touches, French technique (they even use a little of that ever popular sous vide). Maybe not the décor, but I could totally see this restaurant blossoming on Fifth Street in Park Slope. Smith Street could seriously use a place like this instead of the blah Italian and Thai food that persists.
I'd been taking outdoor photos earlier in the day and forgot to change the setting on my camera so they turned out atrociously dark. Even after playing with photo editing software, they look like shit. I'll just include some tiny thumbnails for background color.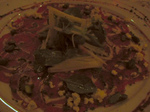 Beef & Maytag Blue Cheese Carpaccio: Arugula & Granny Smith Apple Salad, Sicilian Pistachios & Port Wine Drizzles
I started off right. While this could've been very heavy, the apple and wine were sprightly enough to keep me alert.
I originally wanted the Texas bbq shrimp with Maytag blue cheese slaw, but let James have it. He always seems to inadvertently order things with bbq sauce and then bitch about it (I do understand that bbq can be read as barbecued, i.e. grilled) so I was amused that zeroed in on this dish. Though as you can see from this recipe that said bbq sauce contains a good dose of heavy cream. And I wondered why the food was so tasty but filling.
Warm Frisee Salad: Roasted Golden Beets, Roquefort Cheese, Candied Walnuts & Homemade Andouille Vinaigrette.
There's that blue cheese again. It was the candied walnuts that clinched it for me. This was really good but I probably should've eaten this or had the blue cheese and beef carpaccio, not and.
Last week we ordered sandwiches from 'Wichcraft for a holiday office lunch and people didn't know what things like frisee or aioli were and seemed suspicious. I don't understand this. I've always worked with chicken Caesar salad/four-cheese ravioli folks. James talks about the guys he works with and they're always going to exotic, obscure or ostentatious places for lunch, they totally know food. My only guess is that a financial salary allows for more dabbling and experimentation than a library salary, or that librarians just aren't very adventurous, regardless of cash flow.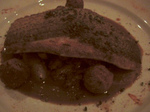 Crispy Skin Striped Bass: Andouille, Rock Shrimp & Fingerling Potato Hash, Hushpuppies & Creole Meuniere Sauce
I didn't even notice the andouille in the description. Spicy Cajun sausage is amazing but I'd already downed more than my fair share drenched in oil and vinegar from the salad. It was the rock shrimp and hash that grabbed my attention. I left like 20% of the food on my plate, which never happens. My stomach absolutely gave up on this trip. I think I caused irreparable damage and will now have to have a six-pack surgery to make me feel better about myself.
Rosemary's Restaurant* 8125 W Sahara Ave, Las Vegas, NV