Turning Over a New Leaf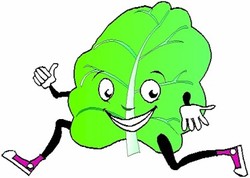 The week before last James brought home a giant (like practically five pounds) bag of spinach from Rossman Farms, the ghetto produce stand down Third Ave. I agree that $2.99 for that many greens is a bargain, but I hate waste and there's no value in buying food you can't possibly use. (When I was a kid, my grandpa would do things like buy cases of canned water chestnuts at grocery outlets because they were cheap even though no one in my family really ate water chestnuts. As a teen I decided to try one of his donated old cans of clam chowder as an after school snack and let's just say that is possible for canned food to expire. The contents had turned pinkish and smelled piney and medicinal, which was only enhanced as I warmed it up.) I made four calzones one night, he made creamed spinach another and that only used up half the bag. By that point I was already bored with spinach.
I was going to say that we had spinach coming out of our asses, then last night we were picking up jerk chicken at Peppa's after watching Half Nelson (there's something about harrowing drug movies that makes me want to use drugs rather than stay away from them. The only part of the movie that made me sad was that he let his cat die) and there was a news blurb about the e coli spinach outbreak, so apparently sick people literally had spinach coming out of theirs. Uh, and died. I was like "see, that's what happens when you go overboard with packaged spinach." I totally cheated death. Or at least violent diarrhea.