Tierras Centro Americanas
Other the Pollo Campero, there aren't any other Guatemalan restaurants in the city that I'm aware of. And it doesn't appear that Tierras Centro Americanas is going out of its way to get the word out (my editor had to call and plead for 15 minutes to convince the owner to allow us to send a photographer for an article on lesser known Latin American food…and then they didn't end up using a photo anyway). This place used to be called Xelaju and appears to have recently changed names. There's also a Salvadoran flag on the wall and pupusas on the menu, which might reflect new ownership. The clientele seemed heavily Guatemalan, though.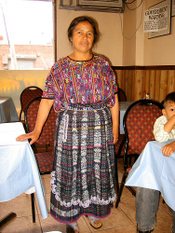 Unless you live in Eastern Queens, getting to this little storefront is a bit of a trek. And once you arrive, the scene might be mildly conflicting. On my visit the staff seemed very nervous and reluctant to approach us. I wasn't sure if it was the language barrier, if they thought I was going to deport them or what. I almost felt in need of one of those worry dolls. But the Sunday afternoon customers were insanely friendly. Nearly someone at every table wanted to help us order and make suggestions.
A large family suggested that I take a picture of who appeared to be the matriarch in a traditional dress. Unfortunately, I couldn't catch what it was called or the region it was from. A guy at the table on my other side confided that these handmade dresses can cost $1,000 and are for special occasions. Hey, why can't soup in Jamaica be a special occasion?
I was only able to sample a few items so I can't speak with expertise on Guatemalan food. It's not like Mexican but they do serve thick fresh corn tortillas with everything. It was recommended that I order a soup so I tried caldo de res, a hearty beef concoction that felt fortifying and healthy as it was teeming with vegetables like green beans, chayote, potatoes, yucca, carrots and cabbage. That would've been plenty, but I had to try the salpicon because it sounded so crazy and un-Hispanic. With chopped beef, cilantro, onion, lime juice and radishes served with rice it was suspiciously similar to Thai larb. It's not spicy and has the oddball radish, but it felt Asian. James lamed out and had tacos, which are probably what Americans would call flautas, little rolled up things.
Tierras is the kind of place where the jukebox will spontaneously blast Spanish death metal and then segue into a sappy ballad and Chinese women go table to table hawking bootleg dvds and customers actually buy them. One mom snatched up Snakes on a Plane (and a Sponge Bob disc) a day after opening in the theaters. That's so not Carroll Gardens and I totally appreciate that.
Tierras Centro Americanas * 87-52 168th St., Jamaica, NY