Izalco

I've passed by Izalco countless times on our way to Sripraphai and incorrectly assumed that it was Mexican. It's tough because when I'm in the mood for Thai that's it. I'm hardly ever wavering between Latin American or Asian; when I leave the house I know what I want (and no, it's not always one of those two broad cuisines) and I can't deviate.
On this occasion I was specifically searching for Salvadoran food because other than the pupusas I sampled at the Red Hook ball fields last summer, I'm pretty naïve about Central American food and need to at least know enough to come up with a paragraph or two on the subject. There are actually quite a few Salvadoran restaurants in NYC. I picked this one because I was already nearby in Jackson Heights and had been thwarted in my quest for Uruguayan meat by the huge crowd waiting to get in.
I immediately liked Izalco's indoor-outdoor décor. Only the finest establishments erect interior awnings to evoke the sense that you're dining on a veranda instead of feet from elevated subway tracks. They went a step further and had distractions like a stuffed armadillo standing on the faux tile roof sticking out from the wall. A taxidermied deer head also sat above our table and an iguana and owl also made an appearance. I don't think that any of those animals play a role in Salvadoran cuisine, however.
I have a phobia about eating in places that are about to close and another about being the only diner. There was still nearly an hour left before Izalco's 11 pm shut down, but the one other table left minutes after we arrived and I started feeling the pressure despite our waitress being very helpful and open to questions. So, we didn't order anything extravagant (not that Salvadoran food seems particularly ostentatious) or labor intensive.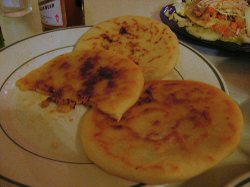 I got a sampler of the three types of pupusas: cheese, chicharrones and refried beans. The stuffed corn cakes come with curtido, a vinegary coleslaw-ish condiment that I really like. The pupusas are pretty heavy so a little crunch and tanginess is not a bad addition. You also get a red sauce that I think is basically pureed tomatoes, it's thin and not spicy in the least. James tried an enchilada, which is probably what we'd call a tostada. The base is a crunchy fried corn tortilla topped with shredded chicken and weirdo but not untasty things like chopped carrots, sliced hardboiled eggs and cucumbers. We also had two different Salvadoran beers, Suprema and El Salvador which were in a Budweiser league. That wasn't a bad thing. Something about this food, at least the few snacky items we ate, seemed like perfect drinking food and you don't need fine wine for that.

Izalco * 64-05 Roosevelt Ave., Woodside, Queens