El Chivito d'Oro

1/2 I really wanted Uruguayan food to be distinctly different from Argentinean so I could be more emphatic in my piece about unique Latin American food, but at least as far as grilled meat is concerned they're kind of interchangeable. There is an Uruguayan and Paraguayan bakery in Woodside but as far as sit down restaurants go, I'm fairly certain that Chivito d'Oro is the only Uruguayan restaurant in NYC.
For some unknown reason, 37th Avenue is home to a slew of parilladas. This strip also seems to have some rule about consistent awnings and storefront, many seem to have a '90s nearly suburban style. One block south on Roosevelt it's mish mash paradise, the signage is a mess and practically every Latin American cuisine you can think co-mingles with Thai, Filipino and Tibetan. 37th is steakhouses, but not in the Peter Luger dry aged vein. Mixed grills are the specialties and the bargain of $19.95 for a single serving ($27.99 for two) that easily feeds two (or three daintier eaters) isn't lost on patrons. On weekend, the foyer at Chivito is jam packed. We didn't even bother on a Saturday around 10pm and went to Izalco instead.
Due to the Italian influence on this part of South America, pastas are prevalent, but I'm barely a fan of even exquisitely prepared Italian food by Italians (I know, I'm a freak) so I've never ventured to that side of the menu. James wanted to be different and opted for a chicken dish, which isn't necessarily lighter than the red meat. His chicken francesa consisted of two pounded, breaded cutlets in a lemon sauce. I didn't taste it but with rice it could've nearly passed for Chinese food.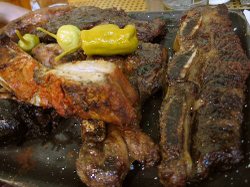 If you order the parillada, which you should, your carnivore's delight comes on a little tabletop grill warmed by candles. The contents include skirt steak, another kind of steak that I'm not sure about, morcilla (my Spanish tutor didn't think I knew what this was when recounting my meal the following week. Hey, I'm all about sangre, no fears here. The blood sausage is actually one of my favorite parts of the whole shebang), ribs, pork sausage and sweetbreads. They went easier on the organ meats than the Argentinean steakhouse I tried a few years back. My choice of starch was roasted potato wedges. I made it through about half of the items. The vinegary chimichurri is a must and cuts through the richness. Of course, it's oil-based and rich in and of itself. You can't think about calories in these situations. You might as well stay home and eat microwaved Amy's enchiladas, if you have food fears.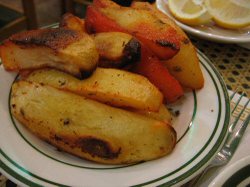 The clientele was a mix on our weeknight visit. There were plenty of Hispanic families, but there was also a table of Eastern Europeans who came after us, breezed through their meat and left before our last bites. There also wasn't a shortage of Queens-y types getting take out and reminding the counter guy not to forget the rolls (which are quite good and charred with grill marks).
I'm not schooled enough to recommend Chivito d'Oro over nearby favorites La Porteña or La Fusta or countless others, though I don't want to say they're interchangeable either. It's worth a jaunt on the 7 train to investigate, though.
El Chivito d'Oro * 84-02 37th Ave., Jackson Heights, NY