What a Crock
Tuesday, I briefly watched fireworks from the BQE overpass conveniently located half a block away from the apartment. You could see part of the lower Manhattan show and the tops of the Macy's extravaganza, while being simultaneously treated to lots of honking and yelling from the traffic jams below your feet. You couldn't help but think this style of watching fireworks could only exist in Brooklyn. And I don't mean that in a proud way.
I was more concerned with making an easy summery dessert to eat than being barraged by the sonic booms of illegal firecrackers shaking the neighborhood and setting off car alarms at intermittent intervals. The Two-Berry Shortcake from the July Gourmet seemed like good solution.
The red white and blue end result had nothing to do with patriotism. It should've been red white and black if I hadn't been a cheapskate and eschewed the pointlessly expensive blackberries for 2 for $4 blueberries. I still don't understand why berries are so spendy, especially when they're supposedly in season. It's not like I'm buying organic or shopping at farmers' markets.  I can't pay $4 for a pint.
But luckily, my favorite 24-hour produce shop tucked in amongst porn shops, Rossman Farms, came through again. Sure, all their fruit and vegetables are on the verge of turning, but $1.49 for a plastic container of raspberries (the same exact brand, Driscoll's, that I'd seen at Stop and Shop for $3.99 and Trader Joe's for nearly the same) is more than a bargain.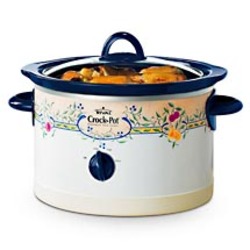 Also accidentally carrying out the Americana theme, James slow cooked a bbq pork shoulder in the Crock Pot we purchased at Wal-Mart Monday for just such a purpose. (We stopped at a Toms River store, a peculiar little place where wearing pajama bottoms, tank tops and flip flops in public is standard and speed-freaky women purchase oddball items like smokers candles and enemas). I say Americana because the selection was fairly limited and the cheapest Crock Pot of a decent size came with country-style flowery embellishments. While mildly loathsome, I'm too thrifty to cough up the extra bucks for the inoffensive stainless steel version.  I'll just have to make sure and hide the crock away if company is over (which is next to never anyway).