Nothing Suitable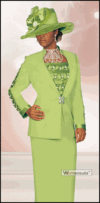 Why are women's suits so goddamn ugly? Unless you have a couple thousand dollars to spend and are a size 2, you're shit out of luck because it's poly-blends and weird silhouettes otherwise. It's tricky enough trying to find something stylish and inoffensive in any size, but once you get into the plus territory it's big, big trouble. Whatever you do, don't get fooled into clicking on womensuits.com (well, you can just this once). I never even knew there were categories like Church Ensembles and Mother of the Bride. The website claims that the beauty on the left can't be done justice in a photo. Maybe I should check it out in person?
And the whole misses/women thing is confusing. You'd think misses would be large sizes because it sounds so hideous, but it's not. Women's means large which makes no sense because aren't most adult females women, regardless of size? I guess the opposite is juniors, which is an odd moniker too.
You might imagine why I'd want/need a suit, I don't know if I need to spell it out. Can you imagine showing up anywhere, let alone a highly competitive/conservative organization dressed like this? Actually, if you're a corporate librarian you might. In fact, it might just give that extra edge and I'll fit right in. Billowy and blue is just my style. If that's not dressing for success, I don't know what is.