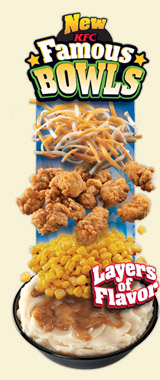 I know I can't be the only one bothered by KFC's new Famous Bowls. And it's not like I have good taste either (I'm totally fascinated by Crunchwraps and stuffed crust pizza). There's just something very wrong about this overloaded combination. Fried chicken, corn, mashed potatoes and gravy all seem innocent enough when compartmentalized on the plate, so it must be the crowning glory, the three cheese (which three, pray tell?) blend.
The completely unnecessary addition of cheese (hey, except in that stuffed crust) is the hallmark of any good American fast food invention. It's like the recipe developers just weren't satisfied with cramming a typical KFC meal in a bowl and calling it a day (not too long ago Taco Bell went this same route with their Border Bowl). It had to have that extra oomph, and in many cases oomph equals cheese.
My other personal peeve with this dish is that it's one of those crammed convenience meals that might psychologically feel like you're eating less than a normal plate full of food because it's all squished and combined. I like my food to last a long time so superficially it seems more satisfying. I hate how in NYC (or maybe other places too) they serve bagels filled to the gills and halved like a sandwich. I always pull mine apart (and occasionally remove some of the cream cheese-I know, blasphemy) so it takes twice as long to eat. Ok, maybe I'm the one with the problem. I like to eat a lot and it's a trick I can play on myself that works.
I've always had an unabashed problem with mayonnaise, though I will admit to gaining an appreciation for the emulsified spread served with French fries, especially if it's freshly whipped up. I mean, it's just egg and oil, so what's the big deal? I will concede that mayonnaise has its place…in small doses.
Yet, I'm disturbed by Hellman's Easy Out! because it's encouraging excessive use of the questionable condiment, just what I've rallied against for like 30 years. Did consumers really cry out for easier access to mayo? The commercial shows a huge dollop being squeezed onto a wrap, akin to shaking hot sauce on a burrito. Not the same.
Now, squeezable cranberry sauce? That's bizarre on a totally different level. Inoffensive, yet odd.