La Flor

1/2 I feel like La Flor is one of those Chowhound darlings (at least it was some years back) as was corroborated by the 95% white middle class clientele (myself included, I guess) that mysteriously was almost exclusively made up of pairs of 40-ish women. But I've never been in all of my years. If I find myself along these parts of Roosevelt Ave., I inevitably end up in an Asian establishment. And even this excursion was a fluke. We'd been shopping at Western Beef in Ridgewood and wanted a taco, which could've been satisfied en route back to South Brooklyn. But the pull deeper into Queens was too strong to resist.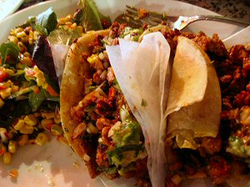 I know, La Flor is more capable than a mere taqueria–the short ribs sounded tempting and the cheesecake and bread pudding filled dessert case taunted me all evening–but we just wanted tacos. I had to try the special al pastor ones since I'm crazy for pork and pineapple. I happened to be sitting right near the spit, so I could see the meat being shaved off. Clearly I wasn't the only al pastor fan, as a lot of slices were stripped off before mine made their way to my table. The tacos looked larger than average, the two corn tortillas seemed to be slightly bigger in circumference. Or maybe it was an illusion because of the generous amount of filling. The meat was crispy edged, sweet and earthy with hints of fruit. I could eat a pile of it. The two tacos came with a mesclun salad topped with fresh corn for $8.95, which seemed fair enough.
We shared a shrimp quesadilla that came red, white and green stripes of salsa and crema. Festive. And the filling wasn't overly cheesy, in fact there appeared to be mashed potato chunks mixed with the seafood and green onions.
Coupled with a glass of the ever popular Yellowtail Shiraz (no, not fancy, but not jug wine either), the early evening meal was a nice way to waste time while waiting for a severe downpour to pass over the elevated 7 tracks. I can see how this corner caf appeals to locals looking for variety. (2/4/06)
La Flor * 53-02 Roosevelt Ave., Woodside, Queens