Tom Yuck?
Ok, it might seem hypocritical to talk about something like tom yam pizza after just dissing Rachael Ray's boo-sotto, but I never said I was classy. I'm harder on Americans than foreigners. I love the home cook, I hesitate to say house wife, geared sections of SE Asian publications like The Star. The food is almost all novel and atypical to me, so I don't have issues if they're oversimplifying or bastardizing recipes. 
That's why I have no problems with Sylvia Tan's books like Mad About Food. She doesn't get too nuts, but does have a recipe for tom yam seafood pizza. So does Anya Von Bremzen in Terrific Pacific, the 1995 cookbook that totally got me started on my SE Asian kick. I've adapted the two into my own version.
Malaysians are crazy for anything tom yum, kind of how Americans equate pad Thai with Thai cuisine. By the way, Thai food sucks in Malaysia, it's either bland and tame or Chinese food in disguise (same with Singapore and Hong Kong). I refused to believe this and couldn't understand it since they share a border. Penang is less than one hundred miles from Thailand, like from NYC to Philadelphia (though some would argue that we can't get cheesesteaks right). But Malaysians make anything tom yum: noodles, potato chips, buns, and yes, pizza (at Pizza Hut, no less). Who am I to buck a trend?
I was home alone tonight and trying to come up with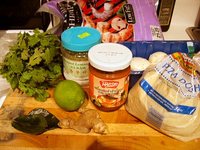 something that used up odds and ends cluttering up the fridge and freezer, and this was it. I used enough frozen products to make Clarence Birdseye proud: lemongrass, kaffir lime leaves, pizza dough and shrimp. The limes weren't frozen, but ancient. Unfortunately, the half bell pepper and red onion I also intended to salvage had to be nixed since both were on the cusp of decomposing. I really cleaned house. I'd used up every last wisp of flour while making lamb pies on Sunday, so I had to improvise with cake flour, which was no biggie since it was simply for dusting
Cheese isn't a must for this dish, but mozzarella is mild enough to not offend. But this evening I only had generic cheddar, American cheese, Chavrie goat, Pecorino Romano, light Laughing Cow cheese and a gruyere on hand (huh, that's a lot more cheese than I realized, plus there was a moldy fontina butt end in the crisper), none of which seemed wise melted with seafood. But I went wild and grated the narrow remainder of gruyere since this was a pantry streamlining exercise.
Tom Yum Pizza
1 lime
1 teaspoon olive oil
½ tablespoon minced lemongrass
½ tablespoon minced ginger
8 ounces peeled, halved shrimp (squid works too)
2 tablespoons tom yum paste
1 squirt fish sauce
1 teaspoon sambal oelek
1 pound ball pizza dough
5 ounces sliced mushrooms, oyster preferred
Small handful coarsely chopped cilantro
2 kaffir lime leaves, shredded
Mozzarella cheese (optional)
Combine ginger, lemongrass, olive oil and juice from half the lime. Toss in shrimp and let marinade for up to one hour.
Mix tom yum paste, the rest of lime juice, fish sauce and sambal. Set aside.
Roll out dough and place on lightly oiled cookie sheet (preferably pizza pan).
Spread tom yum sauce over dough and top with shrimp, cut side down, and mushrooms. Sprinkle with cilantro and lime leaves. Mozzarella is optional at this point. Gross as it sounds, I've made it that way and it was tasty.
Bake at 500˚F for 10 to 12 minutes.
It turned out satisfactorily, the cheese was just accent enough, but over all the pie was too salty. I'd use less tom yum paste and fish sauce next time, and probably increase the amount of shrimp. Those adjustments are reflected in the recipe above.