Sarawakian Experiment
300g Sarawak laksa paste (I'm keeping this metric because that's how the paste comes packaged)
8 cups chicken stock
1 cup thick coconut milk
16 oz thick rice vermicelli (I couldn't't figure out how thick they meant, so I opted for the thicker of the two types I had in the pantry. I'm pretty sure Sarawak laksa doesn't use the round rice noodles, which are next to impossible to find in NYC anyway)
Toppings
¼ cup beansprouts (you're supposed to blanch, but I didn't bother)
3 1/2 oz. chicken (half a medium breast) poached and shredded
5 large prawns cooked and shelled (I used half a pound of smaller prawns because I needed to use them up. Consider this an American adaptation, heavier on the protein)
2 eggs, cooked into an omelet and cut into strips
¼ cup cilantro leaves, chopped
3 calimansi, halved (I lucked out in finding these at the Elmhurst Hong Kong Supermarket, as opposed to my usual Sunset Park location. Lime wedges would also be fine)
Boil laksa paste and chicken stock together for 15 minutes. Strain into a pot. Add coconut milk and mix well. Season to taste with sugar and salt.
Briefly boil dried noodles to soften. Drain, and divide into serving bowls. Add toppings in order listed. Ladle laksa gravy on top.
Garnish with omelet strips and cilantro.
Serve with sambal and lime halves.
Sambal
5 cloves garlic
2 shallots
Half a medium onion
¼ cup dried chiles, soaked in hot water
2 tablespoons dried shrimp, soaked and drained
5 tablespoons oil (the original calls for 6-8 tablespoons, but that felt excessive—hopefully, I didn't ruin the flavor)
3 ½ tablespoons chile paste (I used sambal oelek)
1 tablespoon tamarind paste mixed with 3 tablespoons water
1 tablespoon sugar
½ teaspoon salt
Pound garlic, shallots, onion, dried chiles and dried shrimp into a paste using a mortar and pestle. Or alternatively, use a food processor. I usually go for the mortar and pestle (it's easier to clean, and of course more traditional) but I don't have the patience to break down the dried chiles properly.
Heat oil and fry the sambal ingredients until brown and aromatic. Add chile paste and tamarind liquid and season to taste with sugar and salt. Continue cooking over low heat for 25 minutes.
Serves four.
Adapted from Savouring Sarawak, Flavours, July-August 2005.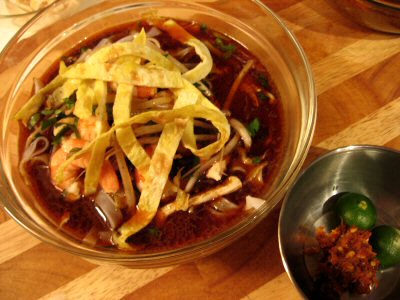 I'm definitely neither food stylist nor photographer, but you get the gist.
I was lucky enough to be given a package of Double Red Swallow Sarawak laksa paste as a gift when in Kuala Lumpur. This is the good stuff, straight from Kuching. It's hard to find even in Malaysia, never mind the U.S. I hope I did it proud. As I've never had Sarawak style laksa before, it's hard to gauge how close my version comes to the original.
I do think I my sambal turned out hotter than what I'd tasted in Malaysia. I have a high heat tolerance and it still burnt the taste out of my tongue (I just ate some with chicken and rice for lunch and my mouth is now numb). I was trying to measure the dried chiles with a food scale, using the metrics from the original recipe, but I don't think the calibration is sensitive enough–no matter how many chiles I piled on, the needle barely budged. My 1/4 cup suggestion  is less than what I used, and probably wiser.