This is that birthday time of the year for me. There's like a two-week period late March/early April when it feels like everyone's getting a year older (and I can relax knowing I still have a few months ahead of me). Luckily, I only have to worry about special occasion dining for one of the celebrants. You can't ignore your significant other special occasion dining duty. I never know what I'm going to get, some years it's more of a blow out than others. 2006 I was taken out to Cookshop, a place I never would've picked on my own yet thoroughly enjoyed.
I rarely go for trendy (though whatever year it was that Spice Market opened I did choose it) so Morandi or Waverly Inn were wildly out of the question. Then there's the stodge issue, Eleven Madison Park and The Modern have been hovering in mind for a while but the time never seems right for them. There are also an infinite number of likeable standards that I doubt I'll ever get around to, from the Le Bernardins and Daniels to the Union Square Cafes and Crafts of the city. It's too bad the reviews have been so mixed for Gordon Ramsey at the London because that's one restaurant I was initially interested in for a splurge.
Instead, I went kind of random and picked Devi. Pretty and creative, though not over the top or ostentatious. I don't dabble in haute Indian so it was refreshing in that regard. I'd been avoiding it because my former supervisor loved it and I couldn't imagine how my tastes might overlap with a plastic surgerized, middle aged Jewish woman from suburban New Jersey. But we all have to let go at some point.
First, we stopped into nearby Flatiron Lounge. Just as the thought of Morandi gives me shivers, I have been shunning Death & Co. like, well Death, I guess. My one and only visit to Pegu Club predictably irked me, though I do love the concept of all these newfangled gin joints.
I started with a Jack Rose (applejack, grenadine and lime juice), then segued into a Jamaican Firefly (rum, ginger beer, lime juice), essentially a dark and stormy. It looks like James's drink in the background is the same in both photos but it's two pale colored cocktails, a corpse reviver #2 (gin, Cointreau, Lillet Blanc and lemon juice) and something made with pisco.
As we were escorted upstairs at Devi to a completely stand alone, enormously square table for two nowhere near any other diners in the room, I thought "this is a table." No squeezing or sliding, nothing communal or stifling about it. You could wave your hands or kick about in any direction and not bump a soul. Space is relaxing as long as there's not too much formality attached to the luxury. I'm still not sold on bar seating, as much as it's hyped.
Continuing the cocktail theme, I had a Mumbai Margarita with silver tequila, elderflower, mango juice and cayenne powder. I would've kept up my mid-week drinking binge—I'm all for wine pairings with tasting menus, but James has less tolerance for alcohol, wine in particular, and it was his birthday dinner, after all. Halfway through the courses I had a glass of random Riesling. I didn't see a wine list and I didn't bother to ask (I was a little hesitant after James asked our waitress where the restaurant got its lime leaves for his twist on a gin & tonic made with cilantro. She got kind of flustered. He was just making small talk, which isn't either or our fortes. Then she disappeared in the middle of our meal and camped out with a cell phone on a box or a stool in this pitch black storage area in the very back of the second floor. I only noticed because even though she was hidden in the dark, she was in directly in my line of vision. I could make out a white napkin that she seemed to be pressing to her face. There was definitely crying and quiet fighting going on but not in English so I couldn't eavesdrop. We had a male waiter for the remaining part of our dinner).
You could make a perfectly respectable meal from a few dishes and a bottle of Kingfisher beer, but if I've never been to a restaurant I like to (though both times I've been to Ureña—James's birthday dinner last year–we ordered a la carte) sample as many things as possible. At $60, the tasting menu is fairly priced. It's not high luxury or fusion Indian either. There's a good deal of tradition at work, with the addition of atypical ingredients and very layered flavors and spices. Possibly the most punch per square inch of food I've experienced in a while.
Let's see how much I can recall from the procession (with the aid of their website, of course). This is where words will fail me and why the hardcore write tasting notes on the spot. I find playing with a camera distracting enough, juggling a notepad is too much for a recreational meal.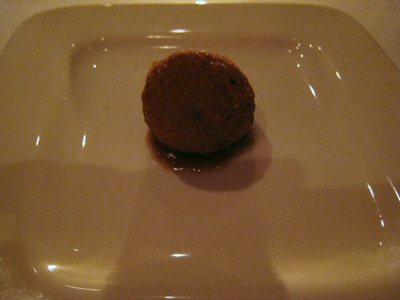 While this looks like falafel, I know that it is not. I guess I wasn't amused because I can't remember what it was.

Calcutta Jhaal Muri
rice puffs, red onions, chickpeas, green chilies, mustard oil, lemon juice
This was a crunchy mishmash like a chickpea fritter rolled in rice krispies. I think I know this blob better by the name bhelpuri, though that seems to be listed elsewhere on their menu.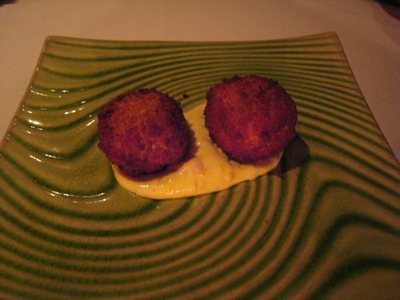 Salmon Crab Cake
tomato chutney mayonnaise
After spending a chunk of time in Baltimore, James always picks crab cakes. We rarely share food and most definitely do not feed each other. Therefore, I didn't taste these.
These stuffed breads (kulcha, I suspect) showed up after the first few dishes. I was torn between not wanting to ruin my appetite and wanting to eat warm cheese and spinach filled dough. Not surprisingly, by the close of our meal my half had been decimated.

Tandoori Quail
spicy fig chutney
I always forget how tiny quail is, yet I often order it if I see it. I was swayed by the fig component. The bed of fruity mash (that you can't see in this picture) contained little gritty bits, just like a Fig Newton. That freaked me out as a child, but I'm OK with it now.
Hmm, James had the grilled scallops with roasted red pepper chutney, Manchurian cauliflower and spicy bitter-orange marmalade instead of the mini game bird but I seem to have missed my photo op.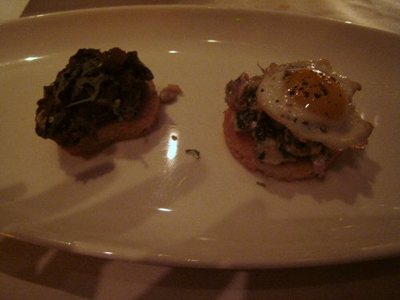 Veal Liver & Brain Bruschetta
veal with quail egg and green chilies, liver with cinnamon, tomatoes and onions
I knew we'd split on this course. I'm like baby animals and gray matter? Bring it on. The liver was much more distinctly organ meaty than the brains, which were tempered by the little fried egg. More teeny quail product. I don't know what James's fish of the day was (no photo because it was even worse than the ones I've deemed fit for publishing).

Tandoori Prawn
eggplant pickle, crispy okra
The side pile was almost like a salad made of shoestring fries, using dried wisps of okra instead.

Tandoor-Grilled Lamb Chop
sweet & sour pear chutney, spiced potatoes
I wasn't going for a bone poking you in the eye effect—I just seem to have zero mastery over my camera. I can't not take photos but these moody, low light meals really don't lend themselves to flashless photography. This dish exemplified the simple seeming yet million flavors at once approach. The meat was mild and creamy from the yogurt, the potatoes were hot, punchy, soft; the chutney crisp and bright.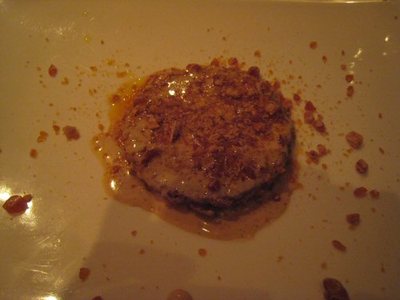 Emperor's Morsel (Shahi Tukra)
crispy saffron bread pudding, cardamom cream, candied almonds
How do you turn down something called emperor's morsel? I had the warm cardamom flavored bread pudding and James had pistachio kulfi. He was annoyed because he'd just had pistachio gelato at Bouchon the week before. I was like those are so not the same, plus I was sitting home bored in Brooklyn while he was in Napa Valley (not on some foodie pilgrimage–his sister lives in Santa Cruz and it was a family obligation) so I had zero sympathy. He could've just ordered the same as I did but has a thing against food duplication.

Pistachio Kulfi
Indian ice cream, candied pistachio, citrus soup
Devi * 8 E. 18th St., New York, NY