1/2 If Food Republic, a glorified food court, nearly made me crap myself with glee, then StraitsKitchen…um, I don't like where this metaphor is going. Let's just say that it is the most awesome buffet in the universe. Eating in malls and hotels isn't shameful in Singapore and I must admit that the Hyatt knows what they're doing. In Beijing, we tried Made in China, a similar concept that served Northern Chinese dishes. StraitsKitchen also brings local fare under one roof, and presents everything slickly yet with remarkable authenticity.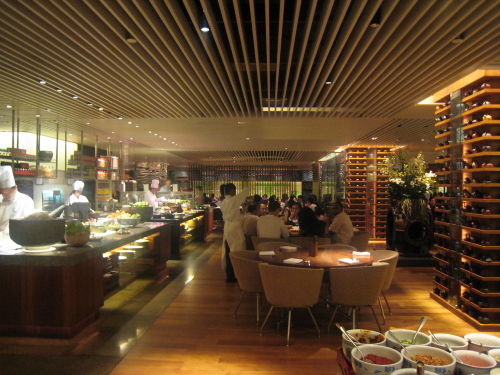 Different styles of food, including Indian, Malay, soups, Chinese roasted meats and chicken rice, desserts, tropical fruits and juices, and more, were featured at individual stations.
I only regret that 9pm reservations were the only time we could finagle same day. They have two seatings and the first was fully booked. The problem being that we eat way too slow and leisurely to cram enough food into an hour and a half. I felt half-frantic the whole time, wanting to sample as many things as possible without filling up (after my super power fantasy of being able to speak and understand all languages in the world, my number one grotesque desire would be to eat and never get full or absorb the calories). Just because I like to order lots of food doesn't mean I can actually eat it all.

My first interaction pissed me off but I quickly got over it. I walked up to the popiah station where the guy spreads out the crepe batter and makes the roll custom for you from scratch and as I was waiting a clueless Australian woman walked up and asked a million questions about what these were, then decided she wanted one so he started making ours at the same time. But then she made a fuss about not eating shrimp and not liking spice and next thing I knew he had made our two rolls exactly the same. Not all white women hate shrimp and chiles. The New Yorker in me would've made him re-make mine but I'm not a total bitch, and time was wasting. Instead, I brought it back to the table, sulked and unhappily picked at the half-assed popiah not made my way.
No time for tears, though. I moved on quickly to Hainanese chicken rice. I couldn't fill up on all that rice, nice and chicken brothy as it was. I didn't think I was going to have time to fit in this Singaporean classic during my week in town so I was happy for this quickie.
James picked out some Indian food for us to share. That's fish head curry on the left and I think tandoori chicken, biryani and something orange on the right. Bok choy and char kway teow are hiding in the background.
Malay, my favorite. James is not so crazy about the belachan-based cuisine but I can't get enough of the strong flavors. One of the things I appreciated about this restaurant was not dumbing down or simplifying and the offering of appropriate condiments. This plate includes beef rendang, sayur lodeh (vegetables in coconut curry), kari ayam (chicken curry) and sambal prawn.
The Malay station, conveniently located closest to our table, had those tiny olive-sized limes, numerous sambals, a pineapple-cucumber achar, and more that I'm forgetting. I think that wooden bucket that looks to be filled with rocks actually contains buah keluak, a toxic nut used in Peranakan cooking. Yep, definitely going for authenticity and atmospherics.
Moving on to Singapore with chile crab and the necessary fried mantou. Also, a few sticks of satay.
My capacity was dwindling but James brought over a bowl of super lemak laksa and I couldn't let it go uneaten. I think he went a little wild with the garnishes.
A melting pot of desserts. I'm a freak who doesn't like fruit even fresh beautiful tropical fruit, so just the foreign sweets for me. I had a hard time narrowing it down to just these five. Clockwise from far left: Indonesian lapis legit, Nonya ang koo, Hong Kong egg tart, Nonya kueh dadar (my favorite—I love the color green and hate that any American dessert that color is minty. I prefer my green goodies flavored with pandan) and Chinese peanut pancake.

StraitsKitchen * Grand Hyatt, 10 Scotts Rd., Singapore