Eaten, Barely Blogged: Oldies, a Goodie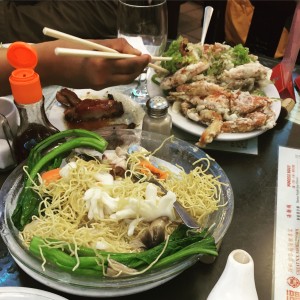 Great NY Noodletown I know this old-timer has detractors, but I'm still a fan and it's not all driven by nostalgia (or even poor late-night decision-making–I'm quite capable of that at 8:30pm on weeknight). Get a group and over-order hacked-up duck, glazed roast pork, a heaping pile of pea shoots, crispy pan-fried noodles topped with squid and scallops, and a few lightly battered soft-shell crabs sprinkled with what I swear are jalapeños (my personal nostalgia since this was the first place I ever had crabs, shells and all, which is hard to believe in the Northeast in 2015). Manhattan's Chinatown can be touristy and a little down at its heels and maybe each dish isn't exemplary of its form, but the whole spread taken together with the right company–plus a few drinks–can be a can be a reminder that this part of the city still has charm. Here is every time I've mentioned Noodletown over the years, though definitely not every time I've eaten there.
Tangra Masala Remember when everyone was excited about Indian Chinese food even though a lot of it is fried and sometimes involves ketchup? The smaller, original, alcohol-free location across Queens Boulevard from Target is still a decent pit stop for paneer-stuffed wontons with a minty vinegar dip, lollipop chicken with a thousand island-esque chile sauce, and bright orange chow mein that tastes like Doritos (seriously).
Lui's Thai Food is not the worst idea if you're looking for a BYOB spot in the East Village on a Saturday night (and possibly trying to escape a group dinner after a memorial at HiFi because group dinners are stressful 90% of the time even though I was just singing the praises of commandeering a round table at Noodletown). I didn't have the highest hopes and was pleasantly surprised. No, it's not Queens Thai. It's not Zabb Elee either. But the crispy basil duck and shrimp panang curry were right on–and intentional–dishes are dishes, none of this pick a protein nonsense. There was a tight selection of entrees to choose from like the above medium-spiced panang curry thickened with ground shrimp and featuring plump fried shrimp and garnished with a hard-boiled egg. You can be an NYU kid with a bottle of Woodbridge Chardonnay and it's fine or pop around the corner to Urban Wines for something a little nicer. (If it's Friday or Saturday night, my friend Lindsay is likely working–ask for a recommendation like the off-dry Mosel Riesling we had from a producer whose name I've already forgotten.)