Eaten, Barely Blogged: Austin Edition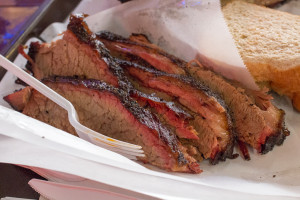 I am not at SXSW and have no intention of going to SXSW but I was just in Austin for the first time and I did eat some food. Barbecue, Tex-Mex and chili is all fine, but my goal was to eat as much queso as possible. Spoiler: I nearly succeeded.

You can get migas at 4am at Kerbey Lane Cafe. The corn-speckled rice, beans, crumbled tortilla chips, plus foil-wrapped tortillas on the side is more starch than I'd normally recommend at this hour sober. I missed a queso opportunity here.
I suspect that Texas Chili Parlor is the Gumbo Shop of Austin. I never want to eat at the touristy restaurant in New Orleans but always acquiesce. Normally, I think chili is disgusting (I also just complained on Facebook about accidentally receiving free hotdogs so I'm a monster) but that's just because I'm biased against the soupy ground beef and kidney bean style. The dense, stewed Texan all-beef version is right on. Really, it's like a rendang, or to be more geographically correct, carne guisada. I also thought they were bullshitting on the XXX heat level, but it was no lie. XX was safer, though I just had mine slathered on top of cheese (processed, of course) enchiladas. And yes, that's a small queso in the background.
Bloody marys seemed acceptable on an early Saturday, and for the record, the stubby $2.50 drinks were easily 75% vodka. Two, and you'll think you've hallucinated what appear to be True Detective devil's nests at the so-called botanical garden (as no plants were in bloom, I'm still not convinced).
Enchiladas y Mas down the street seemed more promising, but all the clumps of people out front was foreboding and I needed melted cheese asap, so strip mall El Nuevo Mexico sufficed, despite mildly weird service and a slightly downtrodden atmosphere (I want my Tex-Mex to be uplifting). Queso was followed by an enchilada and tamale combo bathed in more orange cheese (and also included a hard shell taco).
Barbecue must be eaten in Austin, obviously, even if it means forgetting cheese for a few hours. Barbecue could also merit its own post, but I prefer to just eat it rather than rhapsodizing at length about smoke rings and bark. Since I won't wait in line for food in NYC, no exception could be made for Texas either. Franklin Barbecue wasn't happening. A car means you can drive 30 minutes in two opposite directions for the smoked meat cluster in Lockhart or the singular attraction in Taylor.
I opted for the latter, Louie Mueller, if only because of the imposing beef rib I'd been tempted by online. While everyone eating on a Friday afternoon (standing inside in 10-minute line that in NYC would take 2 minutes) had accents to my ears, they were clearly not locals because I was asked/ma'amed by a few inquiring about the hunk of meat laying on my tray.
Even if one beef rib is too much food for two, get some brisket (a mix of lean and moist here) anyway and don't stress over the sides because they aren't really anything special. Wheat bread seemed unorthodox, but they did offer it.
Louie Mueller certainly wins on decor with a patina that's hard to fake.  (The fresh plywood version, complete with gargantuan beef rib is available at Hometown in Red Hook fyi.) How long the Christmas tree stays up, I have no idea.
Stiles Switch, lacking the history but retaining a degree of dusty main street quaintness, is not a bad bet, especially if you want barbecue in Austin city limits on a Sunday evening, indoor seating and a beer or two. I will say that my dining companion preferred the brisket at Stiles Switch over Louie Mueller and leave it at that.
So much trauma for a breakfast taco. I not only take being open on a Sunday for granted, but that in NYC you can brunch till practically sundown. Procuring a breakfast taco at 12:06 took three attempts and ultimately brought me to Tacodeli where I encountered the longest line of the entire long weekend. Whether due to the brilliance of Tacomix's fare (organic, free-range, not greasy spoon) or because they are the only restaurant in the entire city that serves breakfast until 3pm on weekends, I'm not sure. I would take a regular cheese-less (yes, I know) corn tortilla taco over a breakfast taco, but if you say you didn't try one there will be hell to pay. Once again, I shirked my duties by forgoing the queso.
Regrets: No kolaches (also a Sunday problem), not making it to Eddie V's, Darden's most unknown brand, or any of the chains at The Domain, an upscale-ish mall complex next to my hotel. I mean, there was a freaking Maggiano's directly in the line of sight from my porch rocking chairs.
Qui? I will give it its own post.