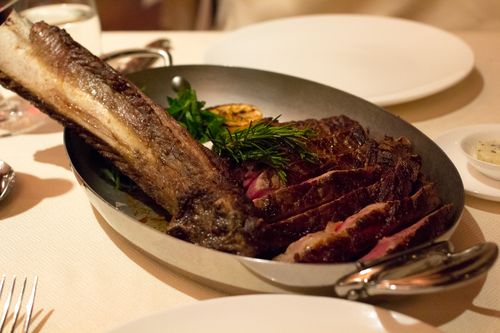 Costata Eating at two Michael White restaurants in almost
the same week is kind of odd. I'm not a fanatic or anything. But it was a
birthday dinner option and I took it (Maggiano's in Bridgewater, NJ–don't
ask–and Mission Chinese were also tossed into the ring. The Elm might've been
the best choice but I don't like to pick my own special occasion meals) because
I was up for something meaty and I wanted to see if the room was all D.C. style
because I love corporate hotel chic (it's not that bad) and if it was all
blobby blowhards in suits. No, strangely, there were lots of groups of 20-something
ladies in sausage casing Vegas/Meatpacking dresses drinking cocktails and
primping in the bathroom.
Get the tomahawk rib-eye if someone else is paying and skip
the pricey crudo (I'm not lumping oysters into that) even if they are. I don't
care about pasta, so farroto with bone marrow and parmesan and the broccoli
rabe with fennel sausage worked as sides. Go wild and drink Spanish Rioja instead
of Barolo (I don't care about expensive Italian reds either). Though dry-aged
for 40 days, the steak isn't super funky. Some slices had that hyper-meaty edge
while others were mild and tender, maybe too much so. You don't really need
black truffle butter, but after $118 for a slab of meat what's another $3?
Cata After reading about the rising price of raw bar fodder,
and the $21 razor clams at Costata in particular, the shellfish sauteed with
garlic and olive for $14 sounded like a relative bargain while having a giant
pre-dinner gin and tonic flavored with kaffir lime leaves.

Also $14, and though I recently boo hoo'd about
this cocktail price point, these drinks are long-lasting, not gone in four
sips, and potent as two normal gin and tonics.
Cheesecake Factory Sure, you can go to Edison and discover
Indian food if you're friends with Floyd Cardoz, or you can eat at Cheesecake
Factory in the mall. I first stumbled upon this part of New Jersey (I have not
forgotten about the Post-Millennium Chains of Middlesex County, by the way) in
2005 when looking for America's first Uniqlo (which will soon be returning to
the Menlo Park Mall, plus Staten Island and that horrible Atlantic Ave. Brooklyn
shopping center with the Target) that served as a testing ground for Soho then closed. I prefer other chains over Cheesecake Factory (the
martini with blue cheese olives is three dollars cheaper at Bonefish Grill,
which is only one reason why I love Bonefish) but the Thai lettuce wraps are a
classic appetizer in all their glorious unauthenticity, and the fried chicken
salad was more demure than I'd anticipated size-wise (that's not a negative).
And yes, there was a slice of turtle cheesecake involved.
Green Symphony is the bizarro Yip's (R.I.P.?). It's also one
block from my office like my former love, but this by-the-pound buffet is
greaseless and healthy and borderline Little Lad's (also R.I.P.) even though
it's not vegan or even fully vegetarian (there is organic chicken in various
guises). These piles include a cucumber salad, broccoli rabe with pine nuts,
curry chicken salad with fake mayonnaise, edamame salad, wild rice salad,
quinoa salad and some tofu mushroom thing. I can dig this.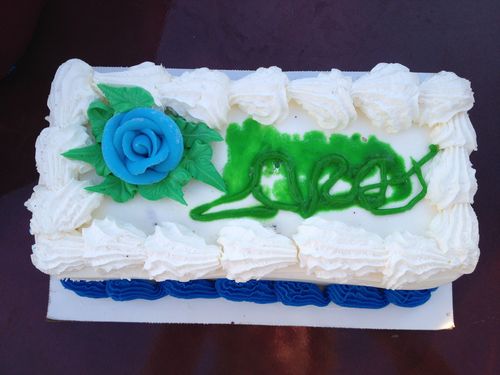 Baskin-Robbins The West Coaster in me wanted to blame
Carvel (Baskin-Robbins is also an East Coast brand, but ubiquitous–I'd never
heard of Carvel till later in life) for this ice cream cake disaster that
supposedly bears my name, but it was the handiwork of a Brooklyn
Baskin-Robbins/Dunkin' Donuts hybrid shop. My name is not aes (?) for the record.