The Butterfly

The last time I saw a grasshopper on a paper placemat
cocktail menu in an NYC restaurant was at Stingy Lulu's. That was the '90s and it
was meant to be kitsch. The last time I tried ordering a grasshopper was at
Jade Island and it was a no go. The Staten Island strip mall tiki bar traffics
in a very narrow range of kitsch that doesn't include creme de menthe.
Of course The Butterfly's version is a $16  Eben Freeman creation so it's made with fun
things like pandan extract and Branca Menta. Or so I've read. I didn't even end
up trying it, despite that being  my
original aim. It's the lounge/supperclub dichotomy. And considering the bar was
at capacity but there were plenty of open tables on the early side of a
weeknight, the people have decided it's a bar, not a supperclub.
A highbrow grasshopper only makes sense if you're
stopping by for a drink (or treating it as a dessert). I'm still not fully on
board with the new era of $15+ drinks, so if I order one or two I want the
focus to be on the drink not convoluted with fried or heavy food.
I did try a brandy old fashioned sweetened with oleo-saccharum,
though, while deciding what to eat. And then moved on to beer, Birra Morini
Lager from Wisconsin, which seemed wrongheaded even if it was more sensible.
The shrimp toast wasn't radically reinvented. In
fact, it would be right at home at Jade Island if the price were chopped in
half ($12 vs. $6.15).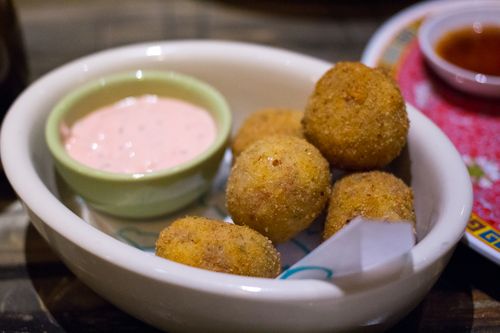 The reuben croquettes, gooey with swiss, corned beef
and just a little sauerkraut, were more successful, partially because they felt
more substantial. The thousand island for dipping was unusually pink, even more
so than from a plastic bottle of Wish-Bone.
The patty melt was the underdog hit. I realize the
only thing separating a melt from a burger is really the bread, but I want a
bun, plus toasted rye is for reubens. But because the meat–rare, dry-aged with
that deep steak-y flavor–was so good, none of the idiosyncrasies mattered. Strangely,
I didn't even notice the cheese (strange because I'm a sucker for melted
cheese). The caramelized onions stood out more and combined with the
distinguished beef, started veering toward Minetta Black Label Burger territory
(turns out it's a White Label blend from Pat LaFrieda so that makes sense).
After trying the patty melt, "Moby Dick,"
the filet o' fish, couldn't even compete.
This is where the grasshopper would logically fit if
you insisted on both drinking and eating.
The Butterfly * 225 W. Broadway, New York, NY