Luksus

There was that Ocean Spray brainstorming scene in
the last season of Mad Men where the descriptor "sour" was ditched
for the more pleasing "tart." Sour isn't necessarily a bad thing, of
course, and it had better not be for you if dining at Luksus is in your future.
The opening menu and beer pairings really play with the puckery end  of the flavor spectrum.
The menu was $75, beer inclusive ($45 for pairings
after hard opening) which was a good deal, if not a little confusing because
with so much palate/palette misuse, I couldn't be sure if
"complementary" used in the reservation email meant well-matched or
free. It was both, as it turned out.
You begin with three snacks brought in succession,
no utensils; the first to appear is a ham chip (definitely more accessible than
Aska's blood cracker) coated in powdered vinegar. Salty and tangy, yes? And
wow, with a Berliner Weisse to really make a point. (I really want to Torst to
get on the homemade woodruff syrup.)
Dulse is an algae, if you didn't know. I would've
pegged the flaky squares to have been made with a mung bean or green pea flour
since they tasted more terrestrial. Marine-based crackers made sense paired with
the mussel fluff, though. Chopped pickled vegetables added more texture (and
tartness).
The roasted beets and carrots with an egg cream were
more straightforward and had a bitter finish.
Warm sourdough bread came sort of as its own course,
tucked into what looked like a denim pant leg while the Outback Steakhouse song
played (well, the original Of Montreal version).
Radishes sitting in a cucumber broth were the focus
(my very unhelpful notes say "sour not tart"). I'll admit that I
wasn't sure what role the bone marrow played. Initially, I thought the pinkish
translucent nubs were the marrow, but I suspect those was the razor clams.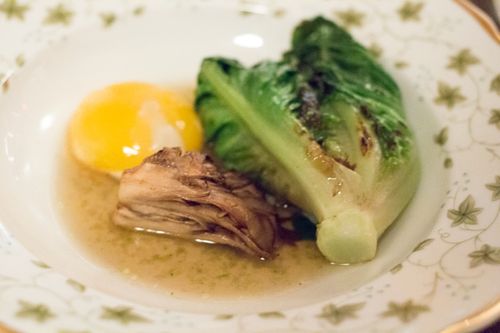 The leafiest course was meatless–at least
overtly–but robust. The little gem lettuce was charred (I do like all the
sooty burnt flavors that seems to be a Nordic hallmark) creating a presence
that didn't get overpowered by the maitake and slow-cooked yolk.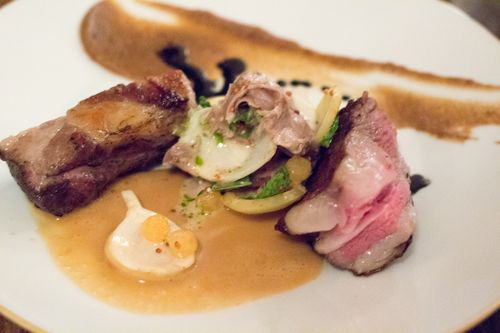 Lamb breast, rosy and fatty, was a solid main with a
lot of intrigue. Sometimes this style of food can be overly austere for my
taste, and that really wasn't the case at Luksus. Thinly sliced sunchokes and
ribbons of lamb tongue formed a little salad in the middle that had a mustardy
flavor hit with mint. I knew that hay was going to have to appear somewhere,
and I suspect that was the source of the black splotches.
When I posted a horrible Instagram pic of this on
Facebook because I'm a horrible person, the burnt hay threw an acquaintance for
a loop, reminding me that these ingredients and preparations aren't immediately
accessible. I mean, people still use arugula as a punchline. I had to explain
that, yes, it was hay not "hay." I do wonder how this style will
trickle down to the mainstream. Maybe more wild leaves and herbs tossed into
salads? More vegetable-based broths? Less reliance on meat for impact? Seaweeds,
lichen and barks have a ways to go.
The palate cleanser was the only thing I hated, and
I did not write than on my comment card because that's crazy subjective like
weirdos who don't like cilantro, coconut or blue cheese. I really can't deal
with pine flavors (maybe too much Northwest upbringing) so spruce sorbet was
not for me (and spruce isn't even native to the region, so it's not exactly
making a case for local-ism). The menu says yogurt, but the third component was
a sorrel broth. Guess what sorrel tastes like? Oh, it's tart,  all right. Even the blueberry gel was sour,
not sweet. My first thought, after the first bite was that Spain would never do
this to me. It certainly succeeded as a palate cleanser, however.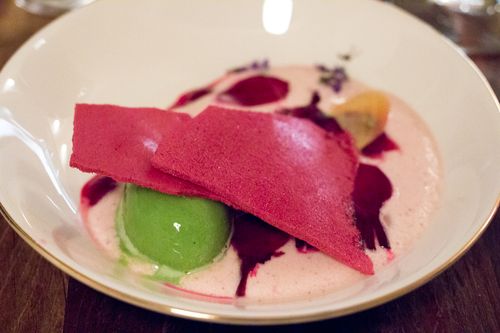 Pea ice cream is fine by me, though. The cool
sweetness worked with the beets, rhubarb and licorice flavors. It was paired
with a sharp apple-like lambic (technically a gueuze) topped with  beet juice.
Ah, chocolate. This was a play on a traditional
Danish flodeballer and contained a brown butter cookie and a marshmallowy center flavored with strawberry cider, I think.
I liked Luksus, though I'm marginally biased since
I'm only one month post-Copenhagen and the food eaten there hasn't slipped my
mind yet. The cooking was strong for opening week with no real misfires (sorry,
spruce sorbet) despite the sour obsession; I'm sure it'll be refined with time.
I think it comes down to more of a matter of whether or not you dig this type
of thing–I'm more curious than fanatical–which will be important long-term
after the initial hype dies down.
Initially, I was thinking that the options for New
Yorkers to explore this trend seemed limited, but even three four  (Luksus, Acme, and Aska–oh, and Aamanns will be introducing a New Nordic dinner menu next Wednesday) restaurants in this style tops
the number we have showcasing avant-garde Spanish cuisine, despite its longer
lifespan. Something about the rough-hewn, pared-down aesthetic (maybe we simply
like stark white walls, blonde wood, and bearded men?) just seems to mesh with urban-naturalist
NYC at the moment.
Luksus * 615 Manhattan Ave., Brooklyn, NY