Buca di Beppo

If you thought Bubba Gump was a misguided one-off,
you would be wrong. Times Square is as dynamic and ever-changing as any
neighborhood. Take Buca di Beppo, for instance. Rather than  hoping for cronut-like hype, the new-to-NYC Italian
chain went old-school with coupons (and cross-promotion with Lisa Rinna?).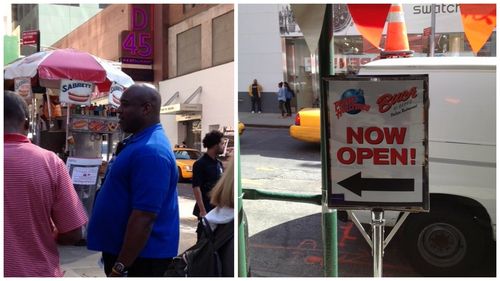 You might be accosted by a gentleman in a polo with
a photo-heavy menu, handing out discounts on the corner of 45th and Broadway,
or find a checkerboard of deals on your office fridge like I did. The paper
grid sat lonely for days untouched. I took three to get the ball rolling, and
then downloaded a coupon for a free appetizer from their website just to be
extra prepared.
Um, and this meatball grad greeted me in my email
after signing up.
Buca di Beppo shares space with Planet Hollywood, just
one floor above. Since the restaurant is a rabbit warren of distinct,
separate dining rooms, it's hard to say how busy it was during my lunch, though
it felt empty and cavernous. I only noticed two other tables with people
sitting at them because they were next to me, a youngish couple and a group of
men in suits, both parties British. Why Buca di Beppo? Who knows?
Family style is their thing, and that's what they
push, but my deals were for lunch and that's a la carte. I was trying to
optimize my coupon usage–which is better? A free stuffed chicken breast, 20%
off, $10 off $30 (I wasn't even going to entertain the $5 off two lunch entree
cards sitting on the table).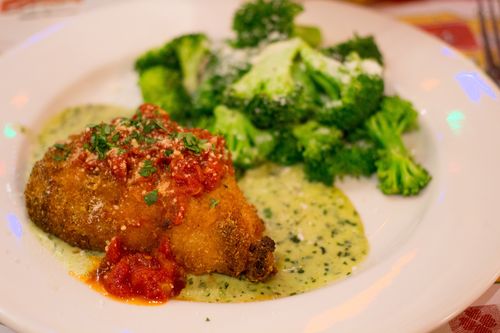 Obviously, free. That gratis prosciutto and cheese-stuffed
chicken breast allowed me to drink two glasses of house merlot.  It was not horrible either,
despite my aversion to Italian-American food. I was worried that I'd have to
eat a bowl of saucy pasta, but no one will force you to pick noodles on the
side.
Thank you,
office coupon, for enabling my day drinking.
Of course, there is plenty of pasta if that's what makes you happy.
Who's up for sneaking out of the office with me again for an extra-long midtown lunch?
Buca di Beppo * 1540 Broadway, New York, NY