River Styx

Wednesday, day two for River Styx, the new
project from Roebling Tea House people,  it
was no problem getting seats for three on the early side of dinner time. Other
newcomers in the area were under siege (more later). We only tried small
plates on this first visit.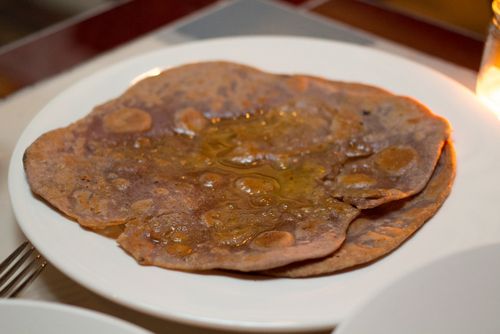 The buttered tortilla concept seemed sort of weird
in the abstract, but really it was not much different than a less flaky roti. Plus,
they were blue. Served as the starch with a balsamic and olive oil dressed
mound of chicken liver, it was a lot of richness, and reminded me of something
I would make if drunk and/or too lazy to go to the grocery store, which is
often.
Squid suave is buffalo squid, super crispy with a
light batter. One is not enough. Any leftover tortilla is particularly good
dragged through the hot sauce.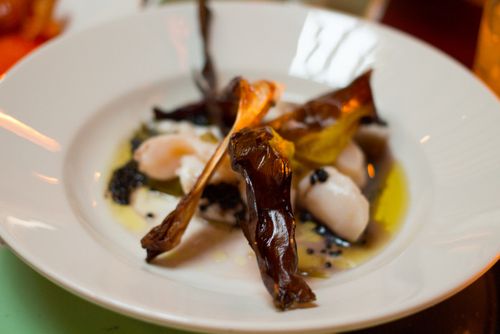 Scallop "ceviche" was a more composed
plate  (not sure why ceviche gets
quotes–it seemed raw?) with frizzled leeks and caviar. Oddly, I'd eaten
homemade scallop ceviche, no quotes, for lunch. Something I'd make if sober and
had planned a supermarket visit.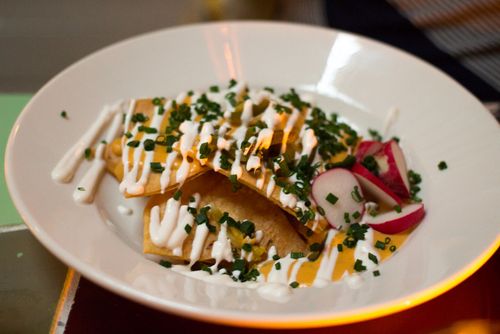 There were also nachos with "pump cheese,"
a.k.a. artisanal queso. These were minus the stewed chicken.
A sip of another's tequila-based serrano cocktail, Discipline, was crazy hot. When I ordered my
own later, the heat had been toned down, what I swear was vanilla upped and an
attempt (forgotten and apologized for with the initial round) to light the
strip of hot pepper, apparently soaked in oil of some sort, failed to ignite.
A+ for effort, though. I also had a whiskey sour-ish drink made with Rye
and Applejack. Both were iced, warmer weather cocktails. I would not describe
them as tiki, however, despite reading that elsewhere.
This is not my neighborhood, but if it were I might
be excited for the sudden growth spurt along the western fringes. Or maybe annoyed if I just wanted
something to eat or drink on a week night. A Sunset Park friend who joined for
the second round, was thrown by the 45-minute wait at nearby Alameda
and the clumps of kids on the sidewalks spilling out of
Achilles Heel and taking up the sidewalk. For mellowness, $5 prosecco on
tap and sandwiches, the backyard at non-hotspot Troost (not to be confused with
Torst also in Greenpoint) was more than sufficient.
River Styx * 21 Greenpoint Ave., Brooklyn, NY