Bubba Gump Shrimp Co.

I would be remiss in not taking part of all that
Times Square has to offer, now that my office in right in the thick of it. And
if there's one thing chains are adept at, it's responding fairly rapidly on social
media.
I put out a plea. And Bubba Gump was there for me (29 minutes later). 
@goodiesfirst With us and Bubba, of course!

— BubbaGumpCo (@BubbaGumpCo) April 10, 2013
But really the deciding factor was that out of the many choices in a one-block radius, it was the only chain I'd never tried before. That shrimpy alien-eyed mascot in a top hat had beckoned many times in New Orleans, but I'm not a monster. Three visits in, there's no way that even I could justify allocating a dining occasion there in such a food-rich city. But I'm here all the time and have no problem sacrificing a meal in search of greater knowledge. Bubba Gump Times Square is a very YOLO experience.
I expected tourists. I did not expect foreign
tourists. There's a heck of a lot of Italian, Spanish and British-accented
English being spoken in line–and yes, there's a line, despite the multiple
wood-planked dining rooms that sprawl along the second floor overlooking the
northeast corner of 44th and Broadway. More American than New York, though, two
diners will still be given a raised booth that could easily seat six, almost
making it worth the wait. (For the record, Guy's American Kitchen, equally
large, on the same block, looked like you could walk in and snag a table
immediately.)

Are the foreigners Forrest Gump fans? I ask, because
a friend who's worked in the Viacom building and wondered why anyone would line
up, didn't realize the restaurant was themed after the movie. Memorabilia is
everywhere and so are the cameras capturing it. My only interaction with the
film was once choosing it over True Lies on an unusually hot Portland night
because I was desperate for air conditioning, drunk, and I could get in free to
movies. I missed the first half, and barely remember the second half.
They push the commemorative glasses with the
cocktails, but you can buy your Sierra Mist, blue curacao, rum, vodka, gin and
pineapple juice, a.k.a. the Blue Hawaiian, to consume in the normal manner,
just renting the glass. The drink are sweet and you won't get drunk, despite
the Long Island Iced Tea-esque list of ingredients. Even two stiff brown
spirited cocktails at Rum House afterwards won't mitigate the aqua-ness.
Calories are listed on the menu, as is now the law, and
no surprise, quite a few dishes break the 1,000 limit. Peel and eat shrimp will
not (only 300, if you care). The most popular dish by far is the Shrimpers
Heaven, basically 1,420 calories worth of fried shrimp every which way. Vacationers
don't care.
If you want a little more cheese and fat, with
spinach and artichokes thrown in, Bubba's Far Out Dip will suffice.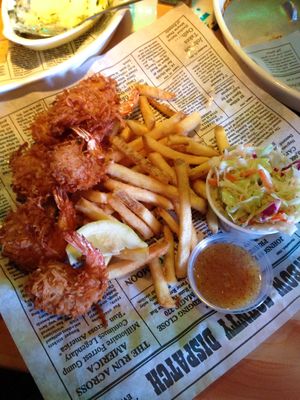 And if it's requisite breading and frying you're
after, the coconut shrimp with a marmalade dip, supposedly Cajun, works and you
don't even have to like seafood because of all the orange and coconut sweetness.
There is a dish called Bubba's After the Storm
"Bucket of Boat Trash," which I hope makes more sense to those who
paid better attention to the movie.
Bubba Gump Shrimp Co. * 1501 Broadway, New York, NY