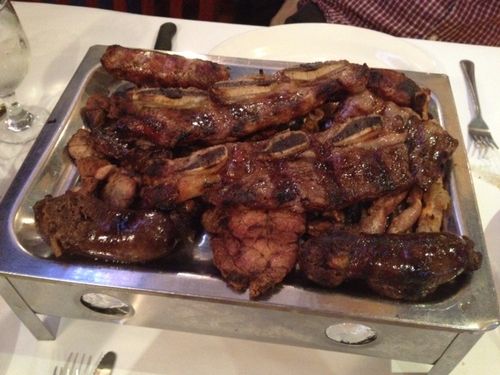 Boca Juniors You'll hear about La Fusta or El Gauchito, if you hear about Queens Argentine restaurants at all. Boca Juniors, not so much, possibly because it's a theme restaurant. What kind of self-respecting food-loving Buenos Aires resident would eat at a Jets-themed steakhouse catering to American expats? No matter, it's fun, and the food is respectable enough. Have a few empanadas, order some grilled meat (if you look out of place–I did–you may get cautioned against the parrillada for two, pictured in its sweetbread, intestine and blood sausage-filled glory, but it takes little to convince that you know what you're getting into) or pasta. I have no idea staff still breaks into song and does a dance routine with blue and yellow umbrellas; on this early mid-week evening, the room was half full with most tables for two seated side-by-side at four-seaters, positioned to watch the live Boca Juniors game on the two wall-mounted flatscreens. The elderly couple in Boca jerseys splitting a bottle of wine were my heroes. Or maybe it's the Argentine house wine pours, always to the rim, that are my heroes. Inexpensive Malbec and a jumble of organ meat are made for each other.
Fatty 'Cue I only went once in its former guise and
that was three years ago so I'm hazy, but Fatty 'Cue 2.0 doesn't seem radically
different to me. The layout's more or less the same. There are cocktails, smoked
meats, funky dips, pig's ears and heads. Maybe the baos are new? There could be
more vegetables than previously. The one notable difference is that the pork
ribs, still great and salty-sweet from fish sauce and sugar, were $14 for three
last time and $12 now (the online menu says $11, but I don't think that's
correct). So, maybe lower prices? The green chili lamb bao was done more Indian
than Southeast Asian, with a tamarind sauce, yogurt and cucumber. Winsome. The
whole steamed fish, the only non-meaty large plate, seems an odd choice in
retrospect. The components were straightforward, turmeric and lime rubbed onto
the fish itself, with chile sauce and ketchup manis for dipping. No complaints,
but I would stick with the meat.
Aita I think I said I would never go here, not out
of malice, but because I eat Italian food so rarely. After 10pm on a weeknight,
though, the dining choices in an immediate two-block radius after a few
Manhattans at Mayflower, are slim. The fried rabbit in the style of fried
chicken with a lot more sage, was fun, if not bony. Something possessed me to
order wheat pasta, cavatelli, with a lamb ragu and favas, not completely out of
whack with this still-cool-at-night spring (that's not a complaint, and no,
it's still not summer, Memorial Day over or not). If you want to continue with
the rye-drinking, the cocktail list isn't bad.