Eaten, Barely Blogged: Bready
Saltie I'm extremely late to this tightly edited collection of mostly focaccia-based sandwiches (I'm still not clear how the little shop managed to fill an entire cookbook) because I never used to be anywhere near Metropolitan Avenue before 6pm and I am a sad person who tries to avoid bread and eschewing sandwiches is the easiest way to do that. You hear about the Scuttlebutt and the one that's mostly lettuce (don't think it's currently served) but the Balmy may be a sleeper hit. Like an American banh mi with the pate in the starring role, this hearty sandwich combines a thick layer of liver and shaved ham with pickled onions, carrots (and assorted other unidentifiable things) green olives, parsley instead of cilantro, a little jalapeño and swipe of mayonnaise. It's the soft bread (and lack of fishy component) that sets it apart.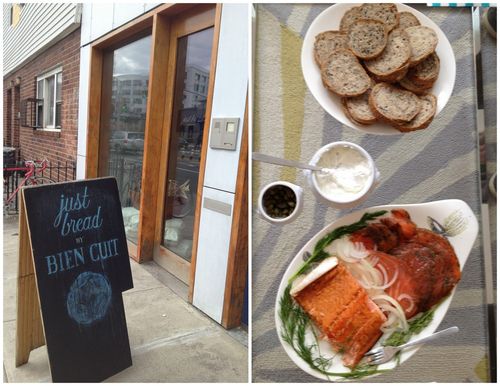 Bien Cuit Once the bread floodgates have opened,
there is no stopping. Even though I never once visited the full-service Smith
Street location, I was excited to hear about the weekend bread-only pop-up,
oddly situated on the ground floor of that odd narrow bright blue apartment
building on Metropolitan near the BQE turnoff that looks like something you'd
see in Amsterdam. I needed something grainy for an Easter butternut squash and
kale strata, but ended up going with the sturdy baguette instead of the
many-grain, which seemed too intense for what was essentially a breakfast
casserole. What I really wanted in addition to eat with two pounds of Acme
smoked salmon was a dark, chewy smorrebrod rye like they serve at Aamanns. Instead,
I returned Sunday and picked up that seriously dense many-grain (buckwheat,
wheat, millet, rye, amaranth and black sesame), which is described as being complementary
to cheese, but works with gravlax and dilled sour cream too. Unfortunately, I underestimated
its edibility and had to send a guest out for another loaf (plus a rye &
sunflower, for good measure and to help make sandwiches of leftover ham).
The NoMad What do you eat when you've already tried
the chicken for two? (Funny, this question came up this week because though I
know it's a whole chicken, it really doesn't seem so.) You could order it
again. Or you could jump all over the menu while slicing and picking at the freshly baked foccacia. The sweetbreads croustillant,
a.k.a. eggroll-style are a little odd because they seem too naked, just soft
innards in a shell and no sauce. Fun in theory, but they needed something more.
The gratineed bone marrow with anchovy worked better (and though I'm contradicting
what I just said,  I kind of like my
marrow plain and unadorned with nothing more than crunchy grains of salt). The
lobster wasn't a disappointing chicken alternative, and light despite being
bathed in rich buttery foam that had that nice subtle licorice quality from the
fennel. The smooth white globe of ice cream in the coconut-centric dessert
resembled a hard-boiled egg so much it was nearly distracting.