Eaten, Barely Blogged: Cold-Fighting
Taste Good Malaysian There are many directions you
can go if you're a spicy soup to ward off a cold type: soondubu jjigae, hotpot,
menudo (for some reason tom yum doesn't appeal) or Singapore laksa, a.k.a.
laksa lemak, the rich coconutty style. Somehow the combination of heat and
creaminess just makes sense for a sore throat. Elmhurst's Taste Good Malaysian
is as good as anywhere to get a fix. Their version filled with bean curd puffs,
half a hardboiled egg, chicken shreds, a few small shrimp, fish cakes, bean
sprouts and fat, round translucent noodles is a meal in itself (always a
problem because it's too filling to allow for any rendang, nasi lemak or sambal
shrimp) though a shared roti canai and popiah won't hurt. I only regret having waved off the scrappy gentleman trying to sell a
bottle of Robitussin in front of the Queens Adult Care Center on the walk to
the restaurant because I'm still sick (the laksa didn't work, but it was tasty)
and too beat to walk the eight blocks to the nearest drug store.
Die Koelner Bierhalle The Park Slope beer hall with
a surprising amount of seating (communal, of course) is more for drinking and
sporting, though a simple bratwurst and big plate of spaetzle and speck (not
pictured) are fitting winter accompaniments. Just don't try to order the bauernwurst
or you'll be steered away with "Nobody orders it. We're removing it from
the menu." What's wrong with the bauernwurst?
Blaue Gans You could also get a bratwurst here (no
bauernwurst, sorry) but it will be $7 more than in Park Slope. While relatively
casual, Blaue Gans is still more of a sit-down affair. If you order the blood
sausage, you might be asked if you've had it before. (Do you see a trend
forming? During three recent meals–including Qi Grill, not mentioned here–I
was essentially told that I didn't really want what I said I wanted, which
makes me testy.) Or maybe the server just meant it's not presented in cased
sausage form, but loose and molded into a circle. No one warned me away from
the calves liver with apples and bacon, thankfully.
Cafecito Bogota If you find yourself in upper
Greenpoint on Sunday during dreaded brunch time, you could do worse than an a
la carte arepa (though feel free to order the $16.99 three-drink with food special
if you're into mucho mimosas, sangria or refajo, an unseemly blend of Colombian
beer and cream soda–they weren't able to make a bloody mary). The Cartegena
comes with a big mound of scrambled eggs, shrimp and cilantro.
Hudson Yards Cafe This might be the most inoffensive lunch place closest
to the Javits Center. Never mind that all the
other badge-wearers (you've taken yours off, of course) are drinking iced tea
and Diet Coke. Stick to your guns and down two pints of Stella with your
fontina (spelled fontana) and prosciutto panini; it'll endear the older bartender who's also midday tippling to you. If you're a certain age being referred to as a "good girl" isn't offensive.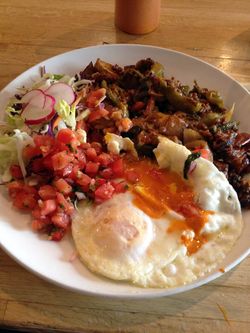 Taco Chulo I don't normally eat restaurant
breakfasts (despite contrary evidence above) especially not on weekdays, but I
had time to kill before looking at a nearby apartment (I didn't realize how
many area restaurants are dinner-only) and rajas hash with chorizo was right on,
greasy and yolky with a bit of heat. Of course when I showed up to the
apartment on time, a twentysomething couple was also waiting even though their
appointment was a half-hour after mine and so I was forced to look at their
out-of-my-budget apartments with them (and vice versa). Why kill time, waiting
your turn when you can just be a twentysomething in Williamsburg?