Qi Thai Grill

Qi Thai Gril is Williamsburg's latest attempt at Meatpacking the neighborhood. The enormous stage set restaurant could simply be ignored if the food wasn't actually pretty good. Though I can't say that's true across the board, since I was careful to mostly order things that sounded interesting, no green curry or pad thai. And if our server's cock-blocking of multiple dishes ordered is any indication, no one's opting for the stuff that's worth trying.
(Overheard at neighboring table: "I don't like coconut milk." What?)
Ignore the chopsticks, order the small dishes and specialties, don't for the love of god be a couple who each orders one thing and eats it like an individual entree (the worst!) dig the statuary and ambient Asian boutique hotel chillout music while pretending you're at an upscale Bangkok restaurant for foreigners. Then laugh because you're in beardo Brooklyn. Whatever Qi is, it's not Fushimi.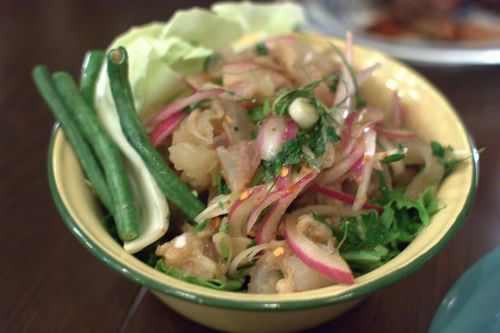 "Do you know what tendon is?" is not what you expect to hear after explicitly ordering tendon. No one should be scared off because I suspect this is one of the more intriguing things on menu, if you know and enjoy eating tendons, of course. In fact, it's the first thing on the first page of the menu (from the list of Sripraphai-created small plates). The tendons are not thin strips more common to Sichuan preparations, but fatty blobs that are a chewy foil for the bright lemongrass and kaffir lime and creeping heat that's mighty. The roasted rice powder adds a toasty finish.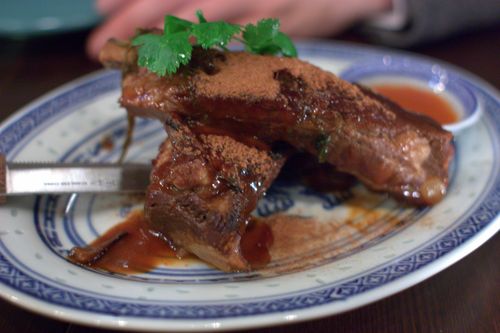 Minus the chile dipping sauce, there's nothing particularly Thai about the Ovaltine ribs from Pichet Ong's grilled selections. Rich with five spice–or at least star anise and cinnamon–the malty chocolate blends into combination that's almost Malaysian. Like rendang on a bone.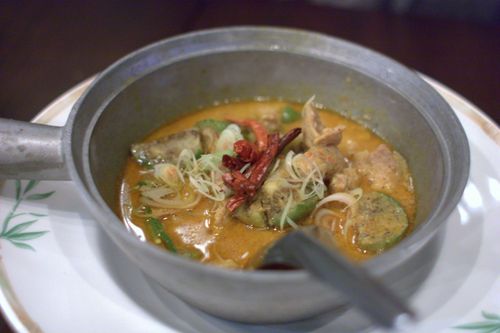 When you see verbiage like "Perhaps the spiciest Thai dish that NYC has to offer" it's hard to let the claim go untested. I've yet to encounter anything hotter than the brutal Southern curry at Sripraphai that no one should order more than once every half-decade, and the Fiery Pork Red Turmeric Curry is a little kinder. The split bird and dried red chiles are tamed by a soupy amount of coconut milk, though the heat is certainly on the serious end of the Scoville scale by Brooklyn Thai standards. Plus, I'm always happy to see those apple eggplants.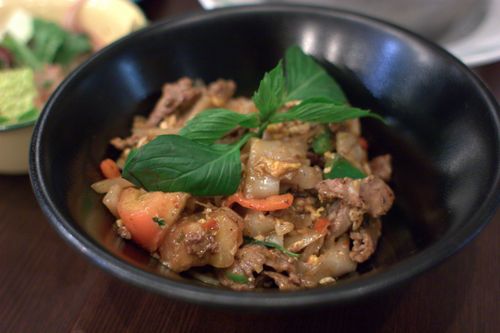 Noodles are always underwhelming, and the pad kee mao fell into that carby and comforting but ultimately unexciting category. A little chile-spiked fish sauce might have helped.
Qi Thai Grill * 176 Ninth St., Brooklyn, NY