Localized: Pizza Hut Singapore
It's hard to say whether wacky chain restaurant
pizzas were on the increase in 2012 or if the amount of online coverage just
made it seem so. Had blogs not heard of foreign Pizza Huts in 2011? Then again Yelpy PR-driven dining events (Um, "I'm not complaining, I'm just saying" tells you all you need to know) which seem more rampant outside the US, or at least NYC, are probably a factor, as well.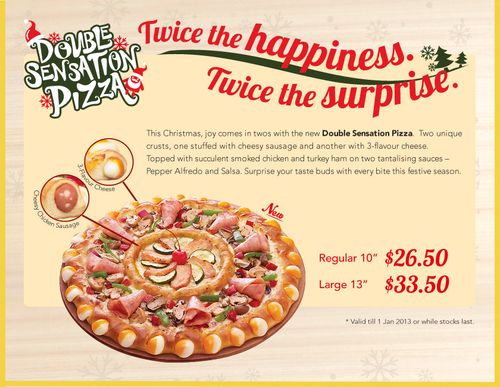 The Singaporean "Double Sensation," is the latest attention-grabber. And yes, the two crusts, alfredo sauce and
maraschino cherry are hard to ignore. So too, is much of the tropical
city-state's Pizza Hut menu.
Five things you're not likely to ever see at a US
Pizza Hut:
I love how so many Asian countries are fearless about combining cheese and seafood. I'm all for it, and the pairing reaches its pinnacle with this bold fusion that would be the first thing I'd order. Classically Singaporean chili crab is presented in soft shell form and mixed with fake crab, pineapple, tomato, buttered rice and melted mozzarella.
I draw the line at warm mayonnaise, though. We all have our personal boundaries. The Ocean Catch also relies on crab sticks, pineapple and tomatoes, along with tuna, squid and shrimp–all atop lime mayo.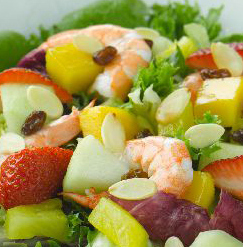 While American Pizza Huts still feature salad bars, in Singapore the roughage is more composed–and willy-nilly. The Fruitty Prawn Salad takes obvious favorites like shrimp, mayonnaise and pineapple and puts in mangoes, strawberries, rasins and almonds just because they can.
A roasted chicken leg isn't so odd, in and of itself, but touting the "garlic cheese fondue sauce" and its positioning on the Western Favorites part of the menu with overtly British fish and chips just makes one wonder which Western country claims garlic-cheese sauce a favorite? They lose all credibility with Americans with the glaring omission of ranch.
On the other hand, Munchie Mouse seems aggressively American with its Oreo ears and  mini M&M eyes. We have Hershey's Dunkers and Cinnamon Sticks, which I'm pretty sure are just dough scrap desserts.
Photos: Pizza Hut Singapore