Budapest Marketing
Even as taking photos of one's food has become an
easy target for mockery, there seems to be an exception among "real"
photographers and travel writers–I'm not calling anyone out specifically,
though it's commonplace on travel blogs and pops up on Twitter–for food
markets in foreign locales. Huh? Isn't "food markets are the soul of a
city" nearly as much of a trope as "____ is a city of contrasts?"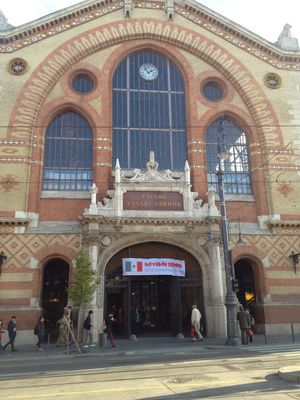 But I wasn't seeking to make art or looking for a
window into the hearts and minds of Hungarians. I only wanted to see what might
be good to eat at Budapest's Great Market Hall, just me and my iPhone camera. Note the Mexican flag on the sign hanging from the entrance–chiles en nogada with their red, white, green, isn't so different than stuffed cabbage highlighted with sour cream, tomato and greenish Hungarian wax peppers, also a nod to a flag with shared colors.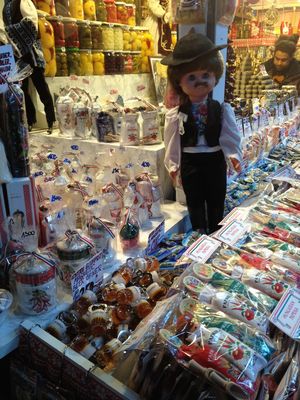 Goose cracklings. Goose is big in Hungary; the big
bird's liver is featured in restaurants both high and low, and canned foie gras
was commonplace at market stalls and even at duty free. (November also happens to contain St. Martin's Day, a new-to-me holiday that entails eating goose in multiple courses.) Liba, a.k.a. goose, is one of the only Hungarian words I learned to read.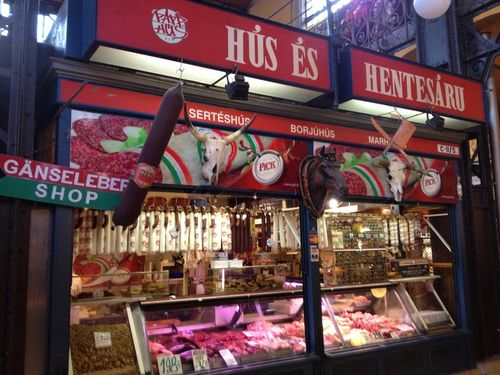 Even this beefy stall, has cracklings in the lower left and cans of goose liver in the case on the upper right.
I would've assumed that the piles of fried skin in
plastic tubs in butchers cases were all pork rinds if I hadn't chanced upon this
entry mentioning libatepertő  (there
aren't a lot, or any Hungarian food blogs written in English. Chew.hu looked
promising, but hadn't been updated since last December).
As has happened more times than I'd like to admit, I
always mix up grams to ounces, and the extra math of converting a foreign
currency, in this case forint, furthers the confusion. I ended up with a pound
of goose cracklings, enough to fill a small pillow–could you imagine
cracklings instead of feathers and down?–when I only wanted a handful to
sample. Yeah, the young man working the counter did give me a funny look when
I asked for half a kilo, but everyone in Budapest shoots nervous-making looks.
Service with a smile is not a thing (not that anyone is particularly unfriendly either).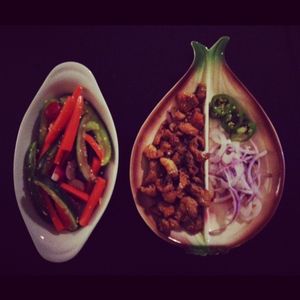 The crackling miracle was that the nubs of
goose-bumped skin and fat, some with bits of dark meat attached, not only
stayed crunchy, but lasted a week at room temperature, stuffed in a plastic shopping bag in the
hotel closet (nowhere near the biggest food crime of frozen horse meat unthawing and bleeding all over the contents of a
minibar fridge in Montreal) and an additional week in a Brooklyn fridge, to be
served at Thanksgiving traditionally with a generous amount of salt, sliced red onion, the
other Hungarian fave (one can only stomach so much raw onion), and
untraditional jalapeños in lieu of the milder yellow-green peppers they
consider spicy and sometimes are. Ignore the pickles on the left, but do take a closer look at the onion plate–it has a face.
Mangalitsa pork, the extra rich and fatty meat from
curly haired pigs, is premium both here and in Hungary, the difference is that
being a native breed there, it's everywhere you look.
It's in spicy, super oily sausages, served with no more
than a dollop of sweetish mustard, that can make a normally self-conscious solo diner more self-conscious while chomping at a bench next to the garbage cans where the cleaning women smoke. With paprika as the dominant spice, the pork
sausages bear more than a passing resemblance to chorizo, except that I've
never encountered such large portions for one in Spain.
Lángos is essentially fried pizza (Neapolitan
montanara doesn't own the style) and at its most basic is topped with sour
cream and mild shredded white cheese. There is a menu that none of the staff
appears to adhere to, combo-wise or price-wise; instead, they ask what
ingredients you'd like piled on top from a series of metal containers separated by
glass, Subway-style. That's how I ended up with sausage and more red onions
than I'd bargained for. Even if the price balloons beyond the listed 700
forint, it's inconsequential–that's only $3.20. (If you want to get drunk and
eat cheesy fried dough in NYC you are in luck–there's lángos at Korzo f.k.a. Eurotrip in South Slope.)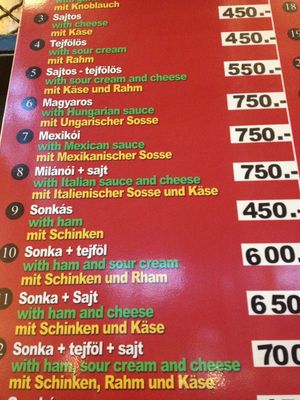 No one orders the #7.
However, there was a Mexico tourism promotion
occurring on my first visit. The performers weren't at their post.
There were Coronas and tequila, as well as tacos,
sopes and quesadillas being prepared for sale. Only 400 forint a taco.
Sadly, it was a week too early for the big
Christmas market that was setting up what is called Fashion Street, an open-air
mall. Touristy as they may be, they're fun, at least the ones were that I encountered in
Berlin last year, though it may be the glühwein talking. (The Germans are more
hardcore, adding shots of rum or brandy to their mulled wine, as well as still
smoking everywhere indoors and having no rules against drinking in public or on
public transportation.)
Luckily, a smaller collection of stands were open
along the pedestrian arcade behind the city's two major hotels, across from the
Tommy Hilfiger shop. From the fifth floor of the Le Meridien, in a room
overlooking the row, I could hear the muffled voices on the ground each morning.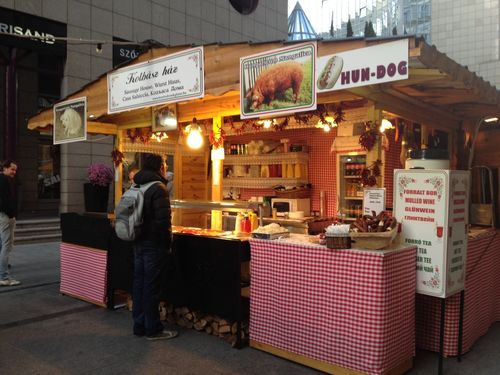 Of course there was Mangalitsa pork.
And just regular sausages with potatoes. We
accidentally ended up with two massive links (one not fully cooked) when we
only asked for one. I don't expect the world to speak English, so these things
happen (well, not uncooked food).
Szittya buci (translated as Scythian bun) is a sandwich cooked in old-timey wood-fired
stoves. I don't imagine the average Hungarian still uses these. These
anachronisms are all in the fun of the Christmas market. Give them time, and
their youth will rediscover old methods, cooly repackage the experience and
charge double.
Bacon, with lots of sour cream and red onions, of
course. Tomatoes cost extra (hot peppers and cracklings were also available add-ons).
I regret not getting to try the kurtos before this stand
closed (businesses shut down early, at least in the tourist zone–we were
snapped at for trying to walk into a closing bar at 11:40pm) which I initially
mistook for rotisserie pork. It's a hollow cake that gets burnished by fire and
rolled in cinnamon and sugar.