Eaten, Barely Blogged: Double Dandelion Greens & Falafel Three Ways
Levant I never ever used to order delivery, maybe more due to social anxiety (I hate ordering by phone–there's always a misunderstanding) than an abhorrence for convenience. But Seamless has won me over lately because it cuts down on all that messy interpersonal interacting. I was a little bummed when Palmyra went belly up, but turns out it was ok because they were replaced with another Middle Eastern restaurant with better food. Or at least more variety–there's not just falafel but Jordanian (chickpea and fava), Egyptian (fava) or Syrian (chickpea) falafel. I had the standard all-chickpea fritter in my five for $13 mezze, along with labneh shateh (spicy), muhammara, mukhalal (pickled vegetables with a whole preserved lemon tossed in) and mousa'a, a steaming hot stewy eggplant dish not pictured. The pizzas, a.k.a. manakeesh are only $6. The lahmeh bi ajin was topped with ground beef, onions, pine nuts, and was a little salty. I'm curious about the one with blue cheese, dates, honey and walnuts.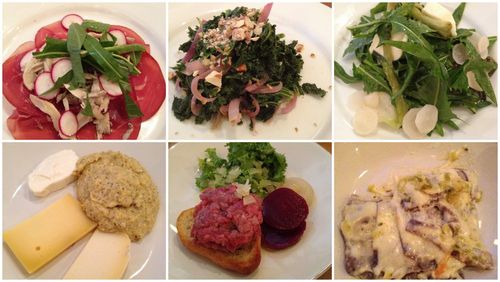 Paprika Despite its existence on St. Marks for 12 years, I don't recall ever noticing this Italian restaurant. There are just too many Italian restaurants in NYC, I'm afraid. That's why owner and chef, Egidio Donagrandi, has gone back to his roots and revamped much of the menu to reflect the cuisine of Valtellina, a Northern Italian region bordering Switzerland. It's also why I was attending a preview dinner. Gone is most of the red sauce (there are still meatballs–lamb, by the way) and a different type of hearty food has taken its place. Buckwheat plays a role the tagliatelle and the lasagna with leeks and fonduta (pictured), Northern Italian cheeses like new-to-me, Bitto, enhance the polenta, also given a little heft with buckwheat, pickled vegetables frequently show up as with the oyster mushrooms atop the bresaola. Also shown here is black kale with pickled onion and almonds, a dandelion salad with pickled radishes and creamy crescenza cheese, and beef crudo with beets and chicory. (Obviously, there are substantial mains, too, but the light waned and I didn't have my real camera on hand to adequately capture them.) Maybe my end-of-2011 prediction that Alpine cuisine would be a break out, will prove true. What happened with Harold Dieterle's The Marrow, anyway?
Frankies 457 Now that Pok Pok exists, waiting an hour for a table at Frankies seems like nothing. Technically, I'd already eaten enough snacks earlier to constitute a meal so post 10pm dinner was fine. But to counteract the already-eaten food, I went healthy and ordered a dandelion greens salad with octopus instead of pasta (well, I also shared a charcuterie plate). It was a bit too healthy, like giant bowl of tart, nicely dressed weeds accented by charred octopus tendrils. I would recommend sharing this unless you're the type who can regularly eat a whole forest of kale in one sitting.
Brick House Tavern + Tap I've mentioned this suburban breastaurant (which seems to be decreasingly breastaurant-y) before. I only want to mention that a short cocktail list with a Manhattan twist and a drink using Firefly sweet tea vodka seems to be in at these corporate-type establishments (Is there a company or consultant who designs lists for restaurants? I feel like I should know.) Brick House has a Woodford Reserve Peach Manhattan (which I ordered) and a Carolina Spiked Tea (which I would never order because I hate sweet tea). Though I can't find any cocktail lists on their websites, both Republic Gastropub and Bricktown Brewery (no relation to Brick House) Brewery in Oklahoma City also had prominently featured a sweet tea cocktail and a fruity Manhattan.