Captain James Crabhouse

I don't (generally) love being a killjoy. In theory, the idea of an outdoor crab shack in Red Hook sounds pretty cool, like a Clemente's but walkable. I like the neighborhood because no matter how much it's touted as the next big thing, it never really happens, and with the exception of The Good Fork, crowds are never a problem (do not tell me Pok Pok is in Red Hook).
That's why as soon as I heard about shuttle buses from the Carroll Street station to Brooklyn Crab, my excitement deflated a little. Just a few weekends ago, there was a party bus blocking the street outside of Sunny's Saturday night (and this appeared to be separate from Bon Appetit's Grub Crawl on the same day, judging from the daylight in their pics). It's a bit much.  And I really, really wanted to eat crabs outdoors near the water.
So, down to Baltimore it was (the Eastern Shore is preferable but on such short notice, there wasn't a single hotel room left) where crabs aren't cheap as one might think, but you're treated to some serious specimens and you'll genuinely get full, something that doesn't happen with the little crabs they serve at Brooklyn restaurant, Clemente's included. I didn't understand this before I experienced blue crabs in their element. For instance, if Brooklyn Crab is only charging $37 for a dozen those are going to be maybe mediums by Maryland standards and the amount of work it might take to extract any meat isn't worth it. I'm not saying the experience, enhanced by a few pitchers of beer, won't be enjoyable, but you won't eat much. You know you're having the real thing when you're offered a choice of medium, large, extra large or jumbos.
Mr. Bill's Terrace Inn is a serious crab restaurant in Baltimore. So serious that it's in a windowless building on the outskirts of town. Captain James is more picturesque, meaning more touristy, and that you can sit outside with your drinks and listen to Jimmy Buffet and The Eagles–or the Beach Boys, but only "Kokomo." There'll be a wait at either, but a more considerable one at Bill's.
At Captain James, the Old Bay-encrusted jumbos (which were more like extra larges at Bill's) were $89 a dozen (like I said, not cheap) but you're paying for the amount and ease of extracting intact, substantial chunks of meat.  Some people ask for vinegar, others had squeeze bottles of Parkay. The white flaky flesh was sweet enough on its own, though.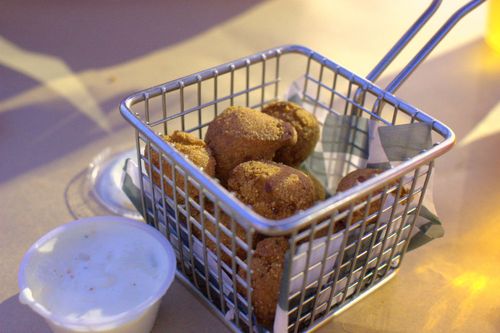 The only accompaniment we needed were hush puppies straight from the fryer. Still a little tender in the middle, these crispy dough balls were better than any I had in North Carolina where they were the bbq side of choice.
I think by Baltimore standards, this particular evening at Captain James would be what folks like to call a shitshow. But desensitized by Brooklyn shenanigans, I didn't think twice about waiting in line for 20 minutes or ten minutes passing before our harried waitress took our order (the pitcher of beer was brought out immediately so who cares?) until she apologized for how slammed they were. It was nothing.
Despite all the caveats of NYC crab eating, I 'm still curious about Brooklyn Crab, though maybe only on a non-shuttle bus weeknight, and not for the crab. The brutal Googa Mooga Yelp reviews from opening weekend only made the four-hour drive to Baltimore seem more reasonable.
Captain James Crabhouse * 2127 Boston St., Baltimore, MD