Eaten, Barely Blogged: Free Coors & Condo-ized Brooklyn
Tasty Hand-Pulled Noodles There have been taste-tests conducted and I've eaten my share of Chinese hand-pulled and shaved noodles over the years, though I I'd hardly consider myself discriminating. I kind of like every place I've tried. Even though I just went with the regular thinnish, eggy ones at Tasty, I appreciate that they've plainly spelled out the seven types available (love the sound of "fat hand" noodles) on the back of the menu with photos for comparison. The beef, tripe and tendon trio adds substance and chew to the massive bowls of soup, but really the soft, springy noodles are the main event. And for only $5, you won't feel bad if you can't slurp up every last strand.
Nelson Blue My attempt to try new, clubby, cocktailery, Demi Monde (mostly because it's a block from my office and I'm enamored with the novelty) before the masses descended was thwarted by a pre-opening party that I wasn't invited to (I'm not the type who gets off on talking my way past doormen) so I was coerced into a lamb burger at the Seaport where no restaurant or bar is a destination.  If you're seeking an Australian meat pie in the Financial District, though, New Zealand-ish, Nelson Blue, is the way to go. The free bottle of Coors Light I was given due to an ordering mix-up wasn't exactly a substitute for one of Demi Monde's $14 spiked strawberry tarragon sodas, but I still drank it without complaint.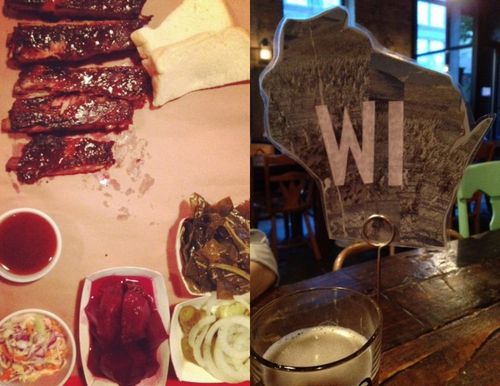 Mable's Smokehouse I hate to be defeatist (ok, I actually enjoy it) but when a Brooklyn bbq urge struck on Memorial Day weekend, Fette Sau wasn't even in the equation. The notion that the entire city goes out of town over three-day weekends is antiquated—there were just as many people piled onto the outdoor picnic tables as usual. But it gave me a chance to try Mable's, which is on the ground floor of one of those new buildings that makes Williamsburg seem more like a Philadelphia or a Charlotte or a gazillion other cities I've never seen first-hand. (Don't give me the Shari Lind treatment, but I get kick out of the neighborhood's suburban transformation. In fact, I've even entertained the notion of becoming one of those reviled condo-dwellers just to revel in it. It would've been impossible to have predicted the area's tidy, adult contemporary future when I arrived in Williamsburg 14 Memorial Day weekends ago fresh from Portland when Mug's Alehouse and the Turkey's Nest were practically the only games in that corner.) And true to form, instead of numbers, Mable's hands out laminated state shapes cut from paper as an identifier when servers bring food to the table. Transplants are now proud of their Wisconsin or Virginia heritage.
But the bbq…my ribs were crazy salty, almost inedibly so.  At least the pulled pork I sampled wasn't dried out as I feared it might be, and the beef brisket was pleasantly fatty, lightly smoked and the best meat of the bunch.  And I appreciated the number of non-carby sides like the pickled beets and sautéed kale. I would not completely write them off if I were shut out of Fette Sau again, but what I really need to do is cross the border and try John Brown Smokehouse and Butcher Bar, which I've yet to do.