Hofbräu Berlin

After reading about the Berlin arrival of Hofbräuhaus, a beer garden franchise from Munich that has outlets in Dubai and Las Vegas (maybe I'll pop in this weekend), I knew I had to pay a visit. If only because Bavarian kitsch in the capital might be akin to a Cracker Barrel in Manhattan (no one seems to realize that you can reach the country chain if you head west for an hour–no need to cross the Mason-Dixon Line).
The giant space designed to hold 2,500 wasn't even close to capacity on a dark, blustery Friday afternoon, but there was an oompah band (they had just left the stage). We were the only ones who didn't know the words to the songs.
The real reason I wanted to go to the Hofbräuhaus was because I needed a schweinshaxe fix. Berlin is known more for eisbein, a boiled pork knuckle, but I wanted a massive dose of lechon-like crispy skin and fat.
But I didn't want to seem like a total glutton. Even though I knew I was ordering something embarrassingly massive, I played it off like I was a naive American unwittingly picking random things. And oddly, this was the only restaurant I dined at that didn't have English menus or translations below dishes, and it was the most touristy place by far, right off Alexanderplatz, the metaphorical Time's Square of Berlin.
When it arrived and drew the attention of the neighboring group of German tourists who'd commandeered two big tables, I pretended like I was surprised. I may have even opened my eyes wider and held out my hands as if I were air-measuring the knuckle's girth.
Of course, I couldn't eat it all myself. There was no way the crackled hunk of meat was going to be to even be tackled fully by two people, and I didn't get the impressions that Germans, like most Europeans, engaged in doggie bagging. We did the best we could. I have to tamp down my food-wasting guilt on vacations.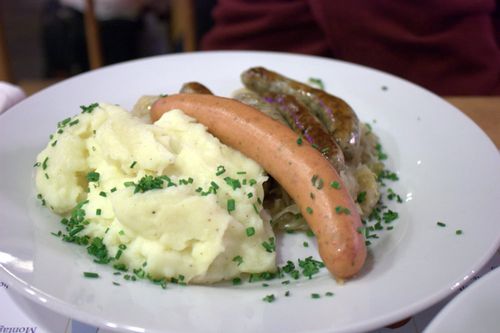 I did not order the sausages and potatoes.
Hofbräu Berlin * Karl-Liebknecht-Straße 30, Berlin, Germany