El Gauchito

If you're like me, you probably don't find yourself at the intersection of Junction Boulevard and Corona Avenue that often. It's not really near anything (unless you live nearby, of course–one man's far away is always someone else's neighborhood) besides Citifield. It's not a bad intersection for choice; there's Peruvian, Colombian, a pizzeria selling Mexican food, and dueling Argentine parrilladas with butcher counters across the street from each other.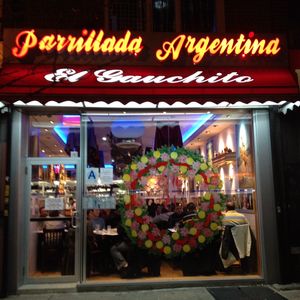 My original intent was to go to La Esquina Criolla, a place I have only been once and not recently, but it was practically empty while El Gauchito had a wait for tables despite being twice the size (there's a another dining room to the left of the entrance). Normally I hate lines, but this felt less like a lemming situation and more like the diners knew something that I didn't. It only ended up being 10 minutes.
El Gauchito is relaxed, fun, and the walls are plastered with colorful tiles with Argentine celebs and public figures painted on them, that style that seems whimsical and '80s but is just kind of Spanish, or in this case a Euro-Latino mash-up. It's the kind of place where you don't feel self-conscious buying a $24 bottle of Malbec; just like in Buenos Aires there's a lot of value. And also like in Argentina you can have pasta (I love how gnocchi is spelled ñocchi—it makes so much more phonetic sense) and milanesas if you don't feel like grilled meat.
First you're brought a provolone and salami appetizer, dressed in chimichurri and oregano. It's a good thing I got a little cheese into my system or else I would've been tempted to order the provoleta, and the last thing I need right now is an oozing slab of grilled cheese.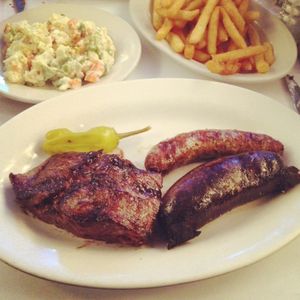 Instead of the full mixed grill I went dainty and ordered a combo, number four. I really just wanted a bursting at the seams morcilla–Argentine versions are unusually moist, loosely packed and spreadable–and flank steak, medium-rare. The chorizo is often too dry and crumbly for my tastes–I prefer a fattier, cured Spanish version or the ground-up Mexican style. But anything doused in garlicky chimichurri (if Americans are scared of pesto, how well would they handle this?) is elevated a notch or two. The pictured fries and Russian salad are just two side options; less Argentine, more Latino beans and rice can also be had.
Even if you're full (just eat half your meat) a panqueque, filled with thick dulce de leche, and smeared with whipped cream is delightful, especially with the tableside pyrotechnics that don't accompany all panqueques in the city.
The one oddity, perhaps to discourage lingering and alleviate weekend lines, was a sign in the window declaring that no alcohol would be served after meals.
Yes, I've been playing with Instagram, hence the inconsistent filters. Even though I had toted my DSLR along, sometimes you just don't feel the need to go hardcore food porny on a restaurant.
El Gauchito * 94-60 Corona Ave., Corona, NY