Chain Links: Spongebob & Oregon Steak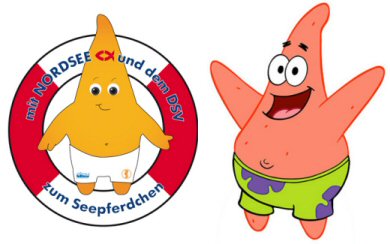 Budget Travel rounded up fast food chains in foreign countries. Germany's Nordsee caught my attention, not just for its fresh seafood, but because its mascot bears a passing resemblance to Patrick on Spongebob.
While it could be easily argued that deep-dish pizza, burritos, and Hawaiian cuisine are iconically American, I'm having a hard time associating Oregon with steak. The Oregon Bar & Grill in the Shiodome district does just that, using Oregon beef and wine as a selling point. Does Oregon really have that much cache? The connection appears to be Portland-based McCormick & Schmick's, which is affiliated with this restaurant in Japan, despite no mention of it on its site.
For all of my fascination with American chain adaptations in the Middle East, one obvious difference never occurred to me. Generally, women and men unless married or close family members don't sit together, requiring separate entrances and seating areas for solo males and families. And tables in the family section must be curtained off (women don't eat with a veil on) like this example at a Saudi KFC. These are the constraints that the Melting Pot, treated like a date place in the US, has had to work with in Saudi Arabia.
Famous Dave's is opening in Winnepeg.
Justin Beiber and Selena Gomez were spotted eating at an Outback Steakhouse in São Paulo.
In higher end news, the shuttered Tavern on the Green will be reborn as a chain and could spread around the world. Also, Le Cirque has opened a branch in Delhi.