Chain Links: Dubai Does It Again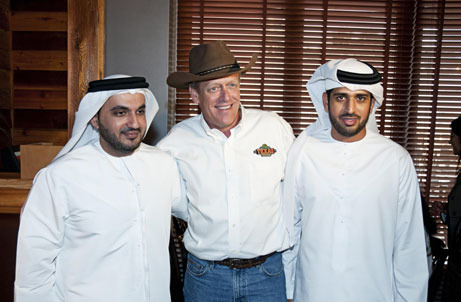 Nothing surprises me anymore. Texas Roadhouse barely has a presence in the NYC area, and yet the restaurant known for line-dancing servers and freshly baked rolls has opened at The Dubai Mall. I really need to pay a visit to Dubai, it seems. It's more American than the America I live in.
Bulgogi Brothers (ugh, with the exception of fictional Pollos Hermanos, I hate the word brothers in a title, i.e. Property Brothers, it's as if a grade-schooler as allowed to be in charge) a Korean bbq chain has opened in the Philippines. Two other Korean operations, Caffe Bene and Bistro Seoul, plan to be in NYC within the next five years.
The East Village's ChikaLicious Dessert Bar will be opening a branch in Tokyo as well transporting the more casual sibling, Dessert Club, to Hong Kong.
A new terminal has opened in Macedonia's Alexander the Great airport and it happens to house the country's first Burger King.
Frisby, the Colombian fried chicken chain, has partnered with Sarku Japan, an American QSR, to bring teriyaki to Pereira, Medellin and Cali. More cities are on the horizon.
Country Chicken, an Australian fried chicken and pizza chain, already has franchises in New Zealand, Saudi Arabia, United Emirates, Russia and Fiji. India is next.
Smashburger will be opening in Kuwait, Bahrain and Saudi Arabia. I cannot entertain eating at a place called Smashburger because it triggers thoughts of Smash Mouth. And no matter how big the '90s revival becomes, no one needs to hear "All Star" or jesus, "Walkin' on the Sun" ever again.