Niceness Cannot Be Taught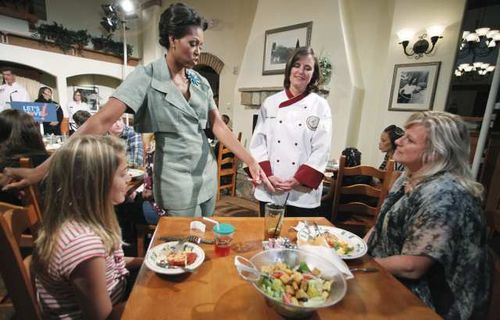 Photo: Manuel Balce Ceneta /AP
I suppose that Darden restaurants vowing to cut calories and sodium and not serving fries as a default side to children is a big news. I just view this as an opportunity to post a photo of Michelle Obama at Olive Garden. I mean, we all know that's an Olive Garden despite the vague caption:
"First Lady Michelle Obama, accompanied by Darden chef Julie Elkinton, second from right, talks to Charisse McElroy, right, and her daughter Jacqueline McElroy, 9, during a Let's Move! event in one of Darden's national restaurants in Hyattsville, Md."
The real news is that the Times Square Applebee's did $13.5 million in business last year, the highest of all Applebee's in existence. The New York Times interviews NYC franchisee, Zane Tankel, and he is full of insights about how the city's Applebee's differ from the rest of the world. For one, potential hires are kind of horrible here.
"In the New York market it's hard to find people with good attitudes, so we try and hire by personality. We can teach you to cook, to make a drink, to be a server, but we can't teach you how to be nice."
Also, he went rogue and added karaoke at the Staten Island location even though it violates corporate policy.
Adweek reports that chains are trying to attract a more discriminating customer, but ad campaigns aren't cutting it. Apparently, there a something called "wet meat" advertising–and it's not a good thing. Dry meat=upscale?