Price's Chicken Coop & Keaton's BBQ

I'm not going to blow your mind with any North Carolina revelations. I was only there for a weekend (with a jaunt to Virginia in the middle) and stuck with common knowledge (if you're a Roadfood/Chowhound type) regional favorites. Frankly, that's the way to go. Without naming names, Charlotte's entry into "farm-to-fork" dining was a total dud (you tout so-called small plates but don't allow sharing without a surcharge?) and the two revamped diners on the same block had service so misguided that it bordered on abusive.

Ok, then, chicken. You will not go wrong with fried chicken, especially not at Price's, a takeout counter always lined by bodies, ordering, waiting, pondering…ok, I was the only one really scrutinizing the menu, both on the outside window and the ancient version covered with computer-printed price addendums above the cashier ladies' heads. Everyone else knew exactly what they wanted.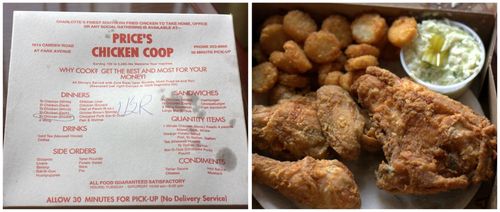 I settled on a half chicken mixed (dark and white meat) with default tater rounds (I forgot to ask for hushpuppies, the favored starch in these parts) and coleslaw, regular coleslaw, unlike ruddy, spiced version I encountered at barbecue joints. The skin was thick and crispy enough to hold up hours later (this was just for pre-dinner nibbling) and seasoned primarily with salt and a good deal of pepper, nothing fancy.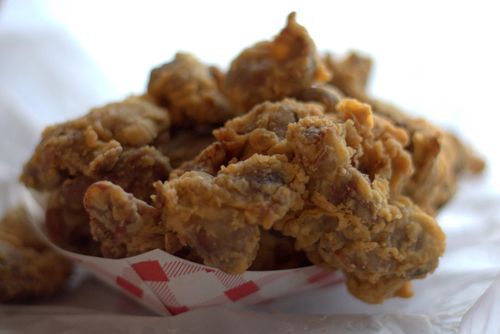 Chewy gizzards fried fresh on the spot are an ideal snack to gnaw on. I felt like I wanted to dip them in something, though. Maybe a few shakes of vinegary hot sauce would've been right.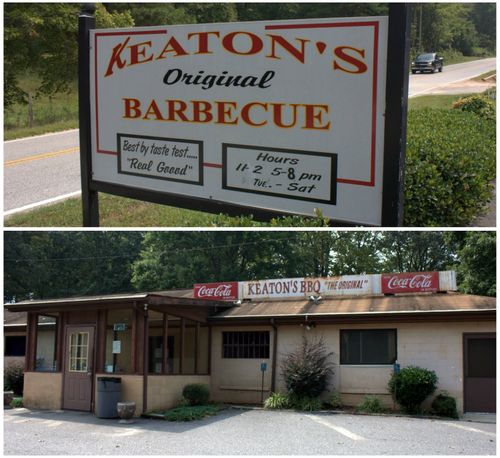 Now Keaton's is a whole other bird, fried and sauced. About an hour north of Charlotte, the roadside bunker sits miles and miles into fields, legitimately in the middle of nowhere Pre-internet, how did word spread about these far-from-hubs eateries?
Inside, it feels like a big rec room that happens to have a counter and kitchen attached. The wood-paneled walls are filled with faded prints, latchhook art and clippings of long-deceased owner, Burette Walker Keaton, many with a cigarette hanging out of his mouth. According to one of the guys waiting for his takeout order who was pushing the limits of the posted no shirt, no shoes rule mumbled something in a hard to decipher manner (I think I have the Northern version of that affliction) about how he always had a cigarette while cooking.
There was also a sign banning photography of staff members. The room was not this empty, I just waited for the opportunity between tables turning to quickly snap a shot lest I be targeted as a rule-breaker. (I'd already shunned the sweet tea and couldn't risk appearing like even more of an outsider).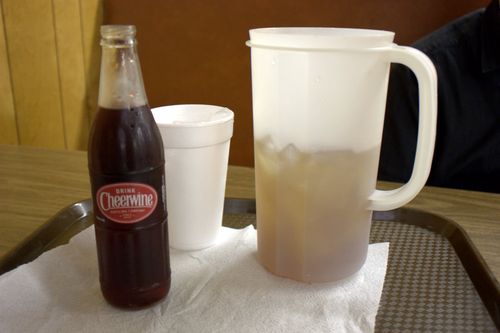 If one person orders sweet tea, they will be given an entire pitcher. Sure, the ice takes up a lot of room in the ubiquitous giant Styrofoam cup (standard issue at every casual restaurant in the region) but that's still a lot of sweet tea. For the record, the sweet tea at Price's hit a new high in sugar content. I'm not convinced there was even an ounce of tannic leaf-derived refreshment in that syrupy blend. I ordered a bottle of Cheerwine just because I could. A little of the cherry red soda goes a long way, but it sure is pretty.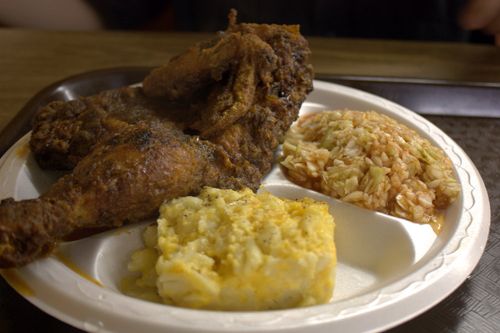 I was expecting a sweetish, tangy barbecue sauce but the red stuff was more complex, peppery with a little kick. I did order hot. There was a vague jerk vibe, too; maybe allspice was at play. I had been wondering if the fried skin+sauce would approximate a Southern version of Korean fried chicken, but no, not really. The saucing rendered the crispy skin secondary. It wasn't as superfluous as dousing shell-on crab a la Singapore, which I'll never understand, but the beauty of the frying process does get mitigated once soaked in warm liquid. This was good chicken, but I missed the crunch. That's the spicy slaw I was talking about above–and a slab of mac and cheese.
The pop-pop of shotguns rang out in the thicket of trees across the street from the parking lot. I have no idea what was being hunted, but at least it gave more credence to the camo and guns crew that had been dining inside Keaton's.
Price's Chicken Coop * 1614 Camden Rd., Charlotte, NC
Keaton's Barbecue Chicken * 17365 Cool Springs Rd., Cleveland, NC