Capital Grille

The lord giveth…and taketh away. I eat at Capital Grille, the Darden-owned steakhouse would feel more appropriate in the downtown of a mid-sized city, and then mere days later discover that Little Lad's, my favorite vegan, Seventh-Day Adventist restaurant hidden in the basement of the same Financial District building, has packed up and moved into a Lower East Side church. I somehow feel responsible for setting this chain of events into motion.
Even though I only work three blocks away, it's not like dining at Capital Grille crosses my mind with regularity. At lunch its business is drawn from surrounding offices, at night, especially on a Friday, the showier than expected—live band, taxidermy, and a private dining room in a former bank vault—bi-level restaurant was luring tourists hard. Camera in hand, I was certainly pegged as one. Using a 30% off discount from Savored might have not helped my case either (hey, Savored is classy—I do think getting rid of the Village Vines name was a good move). This does not bother me at chains. If there's one thing they're good for, it's serving as Manhattan havens from the food trend obsessed.
And how trendy could a steakhouse from the people behind Olive Garden and Red Lobster be? (To be fair, it's much higher end brand than their LongHorn Steakhouse.) Meat and seafood is the story.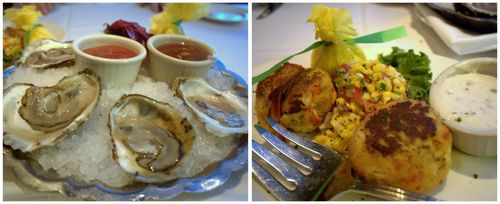 Chilled oysters (of what provenance, I couldn't even tell you) and lobster-and-crab cakes with corn relish. I like the lemon wrapped in netting touch.
A medium-rare porterhouse with a good amount of char, fattiness and the slightest bit of funk (which I like). Even as a chain-admirer, I tend to stay away from Outback Steakhouse and its ilk because the beef barely has flavor. This is a real steak with a real steak price ($47) and real calories (980–one oddity of being a chain is that the menu must list them). Truffle oil was in the air, so I acquiesced and shared a cone of parmesan truffle fries (only 30 calories less than the steak).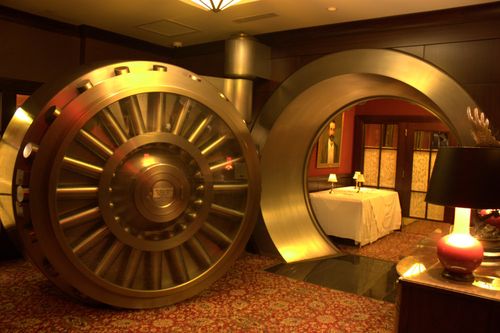 The bank vault. Capital Grille is not the only restaurant on Broadway with such a feature.
After you've been identified as a tourist (this generally only happens when I'm in other countries, and it's really weird when you're traveling alone, taking pictures of your food and someone, especially a guy, asks if you want your photo taken and you have to say yes because that seems like the right answer even though you might not like having your picture taken) that the inevitable, "Do you want me to take a picture of you?" question arises. I don't, because the result is generally horrifying.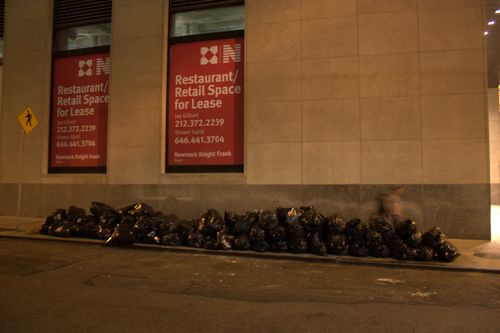 If I were a tourist I might be bothered by the amount of garbage piled up across the street.
Capital Grille * 120 Broadway, New York, NY