Eaten, Barely Blogged: Atlantic City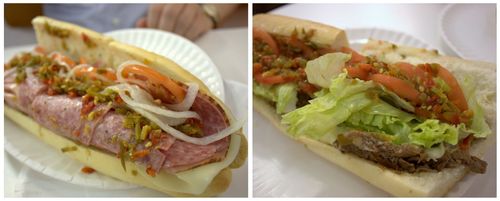 Clearly, my psyche is more attached to my camera than I realized. I toted along my DSLR on a two-day-jaunt to Atlantic City, then decided to leave it in the hotel room. It's just Atlantic City. Three nights in a row I had bad dreams involving not having a camera when I needed one or the camera not working when I pushed the button. (Objects that demanded photographing were dead horse-dinosaur creatures piled high as a mountain on the side of the road and a '70s home movie projected onto a wall that supposedly featured the dead dad of a friend. This friend does not have a dead dad in real life and I doubt he looked like Tom Selleck in a lumberjack shirt.)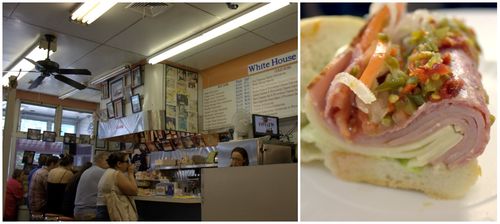 White House Sub Shop: Ok, I did take photos because they make a handsome sandwich, which I've blogged about before. It's always weird when I return someplace six years later and end up ordering the exact same thing, but it happens all the time. The youngish counter guys were ribbing me: "No photos! You're going to steal our secrets." I couldn't tell if they were serious or not at first because the waitresses are of the sourpuss, no-nonsense school who just might spazz on cameras. There are an awful lot of rules plastered on the walls. The cheesesteaks are kind of odd, served sub-style with lettuce, tomato and pepper relish, provolone by default. No one should go to Atlantic City, though, and pass up the White House Special; a slab of salami, ham and provolone folded slightly and stuffed awkwardly into a length soft Italian bread. What's pictured is only a half. A whole might kill you.
Dock's Oyster House: We enjoyed a reasonably priced seafood tower with raw oysters and clams, mussels, half a lobster tail, claw, ceviche and lump crab meat chunks. The panko-crusted soft-shell crabs served on field greens (their wording) was my attempt at limiting carbs despite the breading. As is often the case when traveling anywhere, a Brooklyn couple ended up sitting right next to us. How do I know they were from Brooklyn? Because the female was lamenting the crowd at Brooklyn Bowl. Not a fan of hipsters nor people in their late 30s-to-early-40s. I don't think there's even anyone that old in Williamsburg, which only led me to believe that they must've been younger than they looked (the boyfriend was balding; she had a mild New York accent, which always makes someone seem older). She whipped out a point-and-shoot for her banana cream pie. I don't want to be that person.
Borgata Buffet: My first-ever casino buffet. I don't think I'm a snob. I'd flat-out deny it. But occasionally something horribly pretentious will come out of my mouth. Something like, "This doesn't really compare to the InterContinental buffet in Hong Kong." Don't get me wrong; the prime rib and ham carving stations, waffles, eggs benedict, fried chicken, piles of bacon and so on were exactly what I was expecting in NJ for $26, and I got beyond my money's worth even if I felt sick for hours afterward. If you want imported Spanish cheeses and jamón instead of cheddar cubes and lunch meat and lobster, sashimi, foie gras and unlimited champagne instead of baked salmon, little piles of shrimp with cocktail sauce and juice, you can pay three times more and spend a day on a plane. It's up to you.
Chelsea Prime: Steakhouses rarely make it onto my itinerary—the last was Wolfgang Puck's Cut in Vegas over New Year's Eve—but it must be done if dining in a casino town. The biggest twist on the menu was having tater tots offered as a side. Tots mean a lot to me. What?! Tater Tots is a proper noun? I learn something every week from The New York Times restaurant review. Shocking because I'm from the Ore in Ore-Ida. I still have the remainder of my bone-in rib eye waiting at home in the fridge, but don't know if I can eat something so meaty without air conditioning.
Oyster Creek Inn: I wanted waterside dining, but this was more swampside. I'm still feeling the bug bites. Most people eat fried seafood like the crabcake sandwich, but I was curious about the advertised specialty called Crab Norfolk, which turned out to be a pile of buttery lump crab meat seasoned with Old Bay served naked on a styrofoam plate with a lemon wedge. Three Yeunglings in a plastic cup weren't enough to delude me into believing I was at the Maryland shore (where I wanted to be eating fat blue crabs). That will have to wait unitl July.