Chain Links: There's the Beef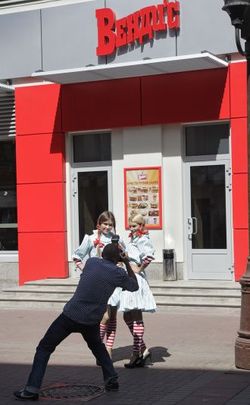 Brusque Coney Island customers are making young Beijing recruits  at Nathan's cry.
Wendy's showed up in Moscow with "sexy" girls in pigtails and striped stockings. What would Dave Thomas think? Times have changed since Wendy's was able to use Soviet fashion as a gag.
The Ivy, London's celebrity-clogged restaurant, recently opened a branch in Dubai. In a mall, of course. Will there be Dover sole? Yes, for 180 AED (approximately $49) which isn't a horrible deal by NYC standards.
IHOP will be spreading throughout the Middle East. It just won't be the same without bacon and breakfast sausage.
MOS Burger's test run in Brisbane has gone so well that the Japanese company thinks it can expand into the US, Canada and Europe. Do keep in mind that Hawaii has already seen MOS Burger come and go.
Photo: Igor Tabakov/Moscow Times