The Cheesiest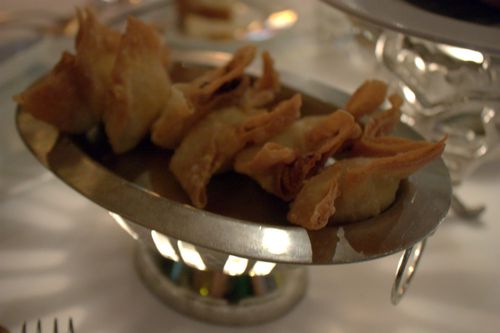 It's rare that I use the Goodie Obsession tag anymore. I guess I don't gush over particular foodstuffs like I used to. Even so, crab rangoon, a.k.a. cream cheese wontons, play a prominent role in my favorite junk foods repetoire. In fact, I ate two-thirds of a box of frozen, bakeable cream cheese wontons from Aldi (NYC's only location is now in Rego Park, you know) for dinner last week.
So, I was very excited to see the snack featured as part of Serious Eats' "Tiki Week." I've totally made them with fake crab, myself. No need for the real stuff unless you are able to procure a can of Phillip's lump meat from Costco and think your friends deserve it.
Also today I learned about a Latino take on the cream cheese wonton served a Patacón Pisao, a Venezuelan shop in Elmhurst. The tequeño is essentially fried, dough-wrapped cream cheese and is practically as inventive as using fried plantains in lieu of bread as they do in their namesake patacón.
Photo from Chicago's Trader Vic's, New Year's Eve 2010.