Brooklyn Star

No amount of salad, yogurt, fruit and dinners ripped from the pages of Cooking Light—my dull weekday diet—can make up for an excess of pork fat, batter and beer. Weekends are a problem for me. But what's the point of going to southern-by-way-of Williamsburg Brooklyn Star if you're living a life of grilled chicken breasts and steamed broccoli?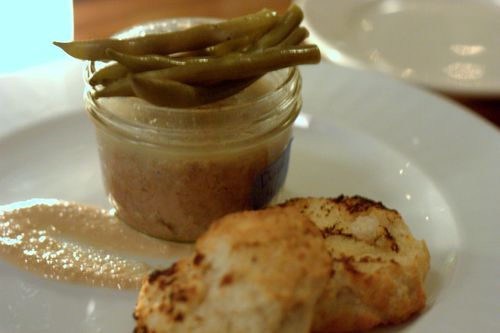 Unusually, the long wait on a Saturday night didn't sour my mood. The luck of two seats instantly opening at the crowded bar and a gratis Sazerac granted by the kindly bartender (whose accent leaned more Scottish than Southern) just shy of the one-hour-mark raised my spirits. We had duck rillettes to occupy us, too. Served in a jar, as country-fied cuisine in urban settings often is, the rich confit was cut by the tartness of pickled green beans and was just as good on a biscuit as a baguette. The thing about terrines, pates and the like is that there's never enough bread and you feel silly eating charcuterie by the spoonful.

The fried pigs tails were more bony than anything, but if they're on a menu you're going to order them, right? The darker nuggets on the periphery of the bowl are jalapeño hush puppies.
I appreciate the starch variety. Hush puppies, biscuits and here, Texas toast as the bready delivery mechanism for roasted bone marrow. The parsley salad you may have seen before in this context; the red onion jam, maybe not.

I did not sample the country fried steak with a creamy white gravy, but it looked substantial.

Yes, one vegetable (there are a few on offer) fried, of course, and tossed with ham, apples and chow chow. The unexpected combination paired with brussels sprouts was the most Momofuku-ish dish I encountered.
I've never been into chili or chips, but I do love tripe so I'd deal with the Fritos accompaniment and likely-to-be hearty preparation to see what the tripe chili is all about. Something for next time.
Brooklyn Star * 593 Lorimer St., Brooklyn, NY