Chains For Fun…and Profit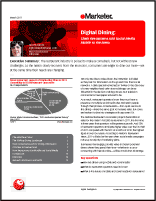 Most of my chain restaurant blathering here is decidedly light, as it should be. I've finally been able to translate my mania into a more serious channel, though, and have written a report, "Digital Dining: Chain Restaurants Add Social Media, Mobile to the Menu" for eMarketer (my day job, if anyone has wondered). Unfortunately, it's subscription-only so I can't post the whole thing.
I'm ok with the constraints of business writing, though I'm a little bummed that my use of the word stalking (to describe that Eleven Madison Park Twitter incident last year) was edited into "overdoing it." I will use this in the future, as in, that guy who looks like House MD has really been overdoing it with Anna Kournikova.