Chain Links: Sammy Sosa is Neither Mexican Nor Indian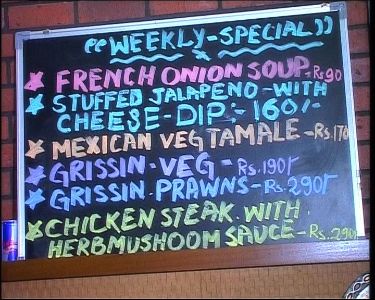 You can find poutine in Mumbai and in Toronto saag poutine exists. Perhaps there is a French-Canadian Indian Connection.
Relations are more muddled between India and our neighbors to the south. It's hard to tell if this press release (is it a press release? I can't tell what it's promoting) was written by a non-native English speaker or a robot of some sort or cobbled together by that AOL Seed thing, but the author, whether human or not, does spell palate correctly. From what I can glean, there's an udupi chain in Mumbai called Shiv Sagar selling quesadillas. Also in Mumbai at a place called New Yorker and in Delhi at a restaurant named Rodeo they serve "tacos filled with mushy rajma or enchiladas which can be stuffed, topped and surrounded with cheese and ketchup." This is not a good thing. To confuse further, there is an eatery in Mumbai called Sammy Sosa that slings "Indian meets Tex Mex, the culinary equivalent of a hombre in a Stetson." I'm not sure if this is a good or bad thing. This written work can be summed up by a theory from Solomon, an entity never introduced or given a first name or title anywhere in the text, "Indians don't travel to Mexico much."
I'm really getting bored by Cold Stone Creamery. All they do is open stores around the world. One just opened in Singapore (nine more are coming) Malaysia will be getting six and Cyprus, Greece and Brazil will be receiving their fair share of sweet ice cream teeming with mix-ins.
I do not know New Orleans-based Naked Pizza, but they have branched out to Dubai. If the company's goal to open 100 stores in the Middle East over the next five years comes true it will change its name to N_K_D Pizza in more conservative countries.
Domino's is now in Poland. Even though I never eat at Domino's or Cold Stone Creamery, I will always find pizza more interesting. What toppings will they have?
Dunkin' Donuts will be increasing its presence in Asia and opening its first shop in Vietnam.
Sammy Sosa blackboard menu photo from Burp.com