The World Beyond New York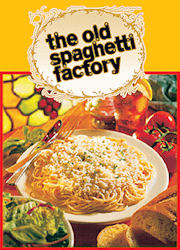 Thanks to the we-live-in-The-Shire NY1 segment, "The World Beyond New York," I'm reminded that life happens outside of New York City. And sometimes this life involves eating and people writing about it. Said eating and writing is just done a little differently. For one, chain restaurants are treated just like any other restaurant.
I'm not sure if that is because there are fewer restaurants to write about (even as a chain-booster, the volume of openings here, notable and otherwise, demand more of my attention) or if they're just well-liked. Time to dial down the snark and let the earnestness envelop you. That's what I plan to do in 2011.
"Well, kiddies, prepare to have your mind blown at The Old Spaghetti Factory, a chain restaurant with one of the most interesting butter-and-cheese pastas out there." [Toronto Star]
A reader wants to know how to make Olive Garden's Stuffed Mushrooms, Chicken Marsala and Zabaglione, and the paper delivers in spades. [Augusta Chronicle]
Open Table has determined the top 50 US restaurants of 2010 based on customer reviews. Of course you'll find Daniel and The French Laundry…and The Melting Pot in Myrtle Beach. [Open Table]
Just because I write for Metromix New York doesn't mean I have insight into their Des Moines coverage. Bonefish Grill (one of my favorite chains) made their 33 "can't miss" restaurants of 2010. [Metromix Des Moines]
"I've always loved the Southwestern Eggrolls from Chili's so I hunted down copycat recipes and began experimenting." The result is Chicken Tex-Mex Wontons. [Charleston Gazette]
"New places I can't wait to try: Capital Grille at the Garden State Plaza, part of a national chain I enjoyed in Philadelphia…and DelMonico, the Cedar Grove steakhouse from Village Gourmet owner Bob Wong and some guy named James Gandolfini." My internal response: Garden State Plaza is a fine mall and already houses Napa Valley Grill, no E. But Capital Grille? I work down the street from one and it has never enticed, maybe because the financial district is already steaky. Commenter response: "OMG Your making me hungry. lol." Oops, said I wasn't going to snark. [NorthJersey.com]