Barbuto

Do you care what I ate for Christmas? No, I didn't think so. (Minimizing the number of photo-centric this-is-what-I-ate posts is a goal for 2011) But I'm bored and house-bound; cut me some slack.
Normally, I cook over the holidays even if it's only for a small number of people. This year I just wasn't feeling it, next year I need to get out of the city.
What prix fixes were to be had? Many seemed perfectly nice, but dull and like hotel dining (not these hotel restaurants, of course). Maialino was on my radar, especially once I learned they were serving egg nog (why so scarce?) but they were fully booked. Barbuto didn't seem like a bad second choice. The $65 family-style meal turned out to provide variety (I thought you'd get to pick from each course, but you got everything) and generous portions. Rustic and hearty makes sense on Christmas.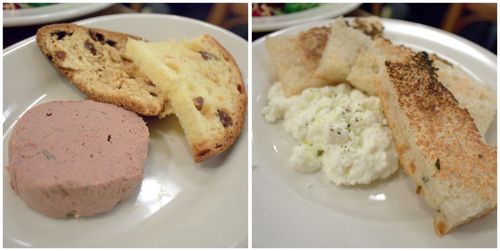 Antipasti included toasted bread with sheep's milk ricotta and pannetone with chicken liver pate. The sweet slices combined with the rich spread was perfect. I also like using pannetone to make mustardy ham and swiss sandwiches that evoke cubanos.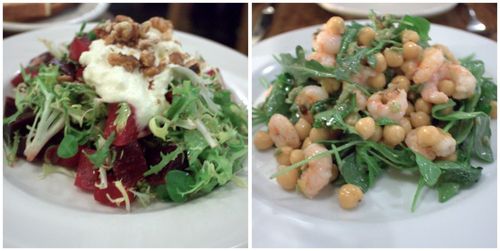 After the salads of chickpea and Maine shrimp and beets and burrata (I don't think I've ever eaten the soft oozy cheese twice in one month—then again, I rarely eat Italian food) I was already getting dangerously full.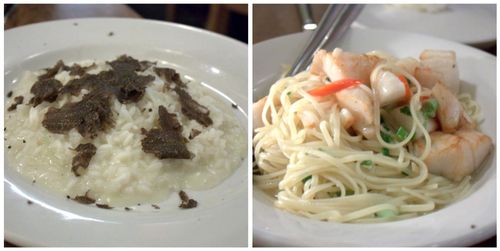 I preferred the linguine with bay scallops, chiles and Meyer lemon over the black-truffled risotto, if only because I like strong flavors and more texture. I feel the same way about rice pudding and especially pudding puddings.
I know Jonathan Waxman is known for his roast chicken, and this crispy version with salsa verde was great. How do you compete with porchetta, though? Roast pork and polenta will always win. The only way the tender meat could've been any better would be if pieces of crackly skin were inclu
ded. Mashed pumpkin, cauliflower with anchovies and a potato gratin were on the side.
Ok, I just said that pudding is boring, but serve it with whipped cream and biscotti and call it a budino and I'll shut up.
Barbuto * 755 Washington St., New York, NY