Talking Turkey: Google vs Bing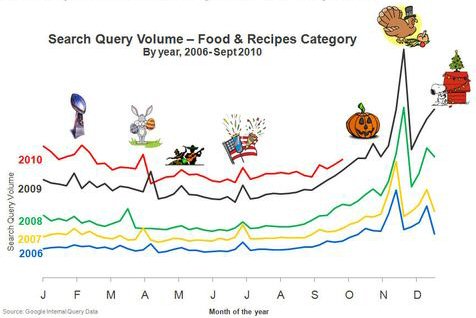 Despite 44% of home cooks not cooking a Thanksgiving meal from scratch, Thanksgiving is still the most popular time of year for recipe searches, according to Google. Then again, during the holidays searches for "easy recipes" triple with pie being the top requested item. I won't scoff; pies are definitely more time consuming than a standard weeknight recipe. I really don't like making crust (and have given up on forming empanadas without frozen shells).
Everyone loves pie. Not surprisingly, pumpkin tops the list of Bing's most searched pie recipes, followed by pecan, apple, chocolate and importantly, pie crust.
Oddly, the top cookie recipe searched for is rice krispie. I'm not even convinced that's a cookie, let alone a holiday cookie. Well, that was before I saw Kellogg's Great Plains Tipi Treats and Turkey Tracks.
Even odder, Google has fondue lurking their top baking searches. I don't associate things melted in pots with baking. Cookies, of course, are number one. I wonder if rice krispie treats also fall under this category since they're not baked either. Maybe I'm just being too literal about what baking means these days.
Great Plains Tipi Treats photo from Kellogg's